Ex-NATO commander blasts 'dangerous' defense plan for independent Scotland
Published time: 1 Sep, 2014 12:06
Edited time: 1 Sep, 2014 20:49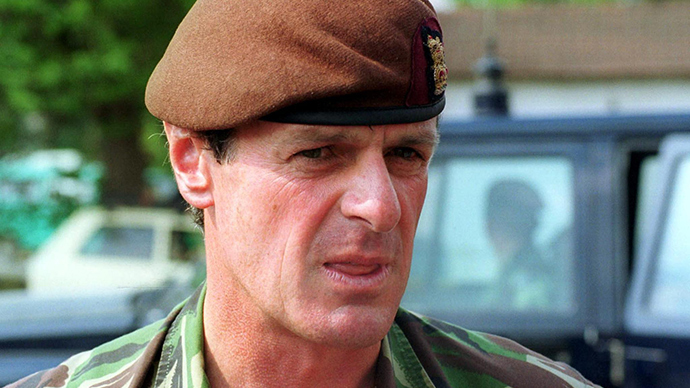 The Scottish National Party's (SNP) proposed policies for defending an independent Scotland have been denounced as "dangerous" and "amateurish" by a former NATO commander.
General Sir Richard Shirreff, who has recently stepped down as NATO's deputy supreme allied commander for Europe, says there is no certainty that Scotland's future membership of NATO would be secure if the SNP banish the region's nuclear weapons. Shirreff also suggests Scottish independence would not enhance the safety or security of the region.
The SNP's White Paper on an independent Scotland's military strategy proposes a defense budget of 2.5 billion, consisting of "air and sea-based patrol" along with 15,000 full-time and 5,000 reserve personnel over the course of 10 years. In line with the policies laid out in the White Paper, Alex Salmond's SNP administration wishes to banish Trident nuclear submarines from Scotland within four years.
In a letter published in multiple UK Sunday newspapers, Shirreff argued the proposals inherent to the White Paper were "amateurish, unrealistic and lacking any clear strategic purpose." Shirreff also suggested the defense policies put forward by the SNP could hinder Britain's national interest, along with that of other NATO states.
"The White Paper proposals are dangerous and would leave Scotland, the UK and NATO weakened and less capable of dealing with the threats of today and tomorrow," he said.
On the question of Scotland's nuclear armament, the former commander said it was difficult to predict how other alliance members would react to the removal of the Trident fleet from Scottish waters.
"Whilst the SNP may accept the principle of nuclear deterrence, it remains unclear how other members of NATO will view the disruption to the coherence of NATO defense caused by moving the submarine fleet out of Scottish waters."
Shirreff's criticism of the SNP's defense proposals surfaced just days before the 2014 NATO summit in Wales, where state leaders such as Francois Hollande, Angela Merkel and Barack Obama are expected to be questioned on whether they endorse an independent Scotland's official entry into the alliance.
Scottish Conservative leader Ruth Davidson suggested the SNP has already "failed the test" on defense. Drawing directly from Shirreff's scathing appraisal of the White Paper, she argued, "There is no certainty around an independent Scotland's membership of NATO," adding that Shirreff had concluded "the SNP's plans for a Scottish defense force are 'amateurish' and 'unrealistic'."
But SNP Westminster Leader and Defense Spokesman Angus Robertson challenged Shirreff's evaluation of the White Paper, arguing "a dangerous and amateurish defense policy would be one that sent troops into an illegal war without proper equipment, while wasting tens of billions of pounds on Trident weapons that can never be used."
Robertson recently said the UK government's Trident "obsession" highlights the democratic deficit Scotland faces at the behest of Westminster. He insisted an updated generation of Trident nuclear weapons would amount to "an obscene waste of money" that should be invested in vital public services. The SNP suggests the 100 billion pounds required to upgrade Trident should be invested in health, education and housing in an independent Scotland.
The Trident facility at Clyde, 40km west of Glasgow, is a strategic UK nuclear base known for its hi-tech nuclear submarines.
Earlier this month, a leading military think tank said the nuclear missile base could be relocated to Plymouth, on England's south coast, if Scotland votes for independence. Some opponents of independence have said the move would effectively mark the end of the UK's nuclear deterrent.