#Patronising: Sexist anti-Scottish independence ad sparks angry backlash
Published time: 28 Aug, 2014 15:47
Edited time: 30 Aug, 2014 19:06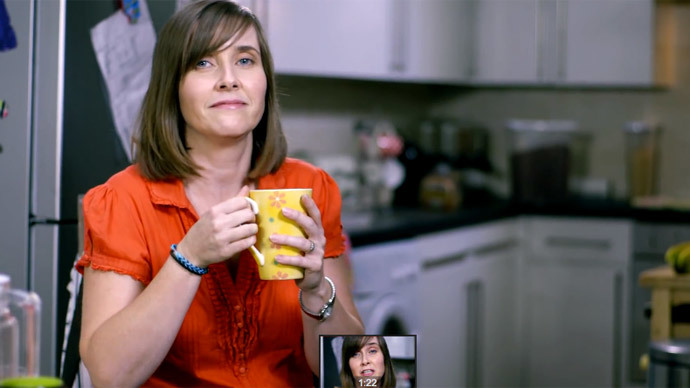 An online video depicting a timid housewife fretting about the dangers of Scottish independence has roused sharp criticism in the UK and beyond for its inherently sexist and "patronizing" overtones.
'The woman who made up her mind' was produced by Better Together, the primary UK government-backed campaign advocating a "No" vote in Scotland's Independence debate.
In a bid to win over "undecided female voters," the video examines core issues relating to next month's vote that Better Together believes are pertinent to women pondering the prospect of Scottish independence. The results, however, have generated a firestorm of sarcasm and anger on the web.
Appearing to draw from a wealth of sexist stereotypes, the film portrays a fictional housewife and mother seated at her kitchen table, clutching a floral mug of tea. The brunette, who bears the look of a mid-90s politician's wife, bemoans her husband's attempts to discuss politics in light of her limited"time to think."
One of the ad's most hotly contested lines depicts the woman as ill-informed and politically disengaged.
"My Paul is worse than the telly these days," the actress tells viewers. "He will not leave off about the referendum! He started again first thing this morning; 'Have you made a decision yet?' I was like, 'It's too early to be discussing politics, you eat your cereal.'"
#patronisingBTlady#indyrefpic.twitter.com/shpcb5vt8O

— Michael Swann (@notarealswan) August 26, 2014
Despite the fact the film has created a vociferous internet response punctuated by a series of caustic retaliatory memes, campaign director Blair McDougall has defended the piece's cinematic integrity. McDougall suggests the piece is flavored with social realism.
The ad uses words"taken verbatim from conversations on doorstops with undecided women voters,"and from the"opinion of women in dozens of focus groups around the country,"he claimed. While the ad has heightened the campaign's profile considerably, the precise nature of publicity it has garnered may not be warmly welcomed.
Comedy gold from @UK_Together 's #patronisingBTlady ! pic.twitter.com/6Lwc653uKA

— Declan B (@YesWithDex) August 26, 2014
Troves of disgruntled people have voiced their distaste for the video on Twitter, deploying the hashtag #PatronisingBTLady to air their concerns and showcase a diverse range of memes devoted to deconstructing the video's demeaning and offensive connotations.
Michael Swann, an anthropologist and communications theorist, posted a scathing still of the actress inscribed with the text"why is my character in a kitchen instead of a boardroom?"
BREAKING... New BT advert out this week #indyref#PatronisingBTLadypic.twitter.com/WNJc1I1f5j

— Lauren (@misslaurenreid) August 27, 2014
While some have employed ironic parody to convey their message, others have relied on hardened debate. Following her on-screen debut, the fictional Glaswegian housewife's infamy has spanned EU borders, with critical commentary on the controversial ad surfacing in Irish and Italian publications.
Commenting on the debacle, a spokesperson for Scotland's Green Party said,"The poor wee No campaign; in a hole, digging furiously."
Generation Yes, a campaign supporting young people throughout Scotland advocating for a Yes vote, described the video as "L'epic fail."