​Conservative coup? UKIP plans to target 9 Tory seats in 2015 general election
Published time: 27 Aug, 2014 16:01
Edited time: 27 Aug, 2014 18:45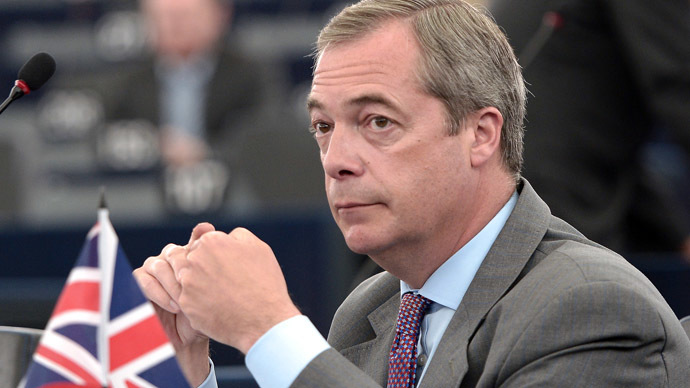 UKIP plan to target nine of the Tories seats in the next general election, internal polling has revealed.
The right wing party's carefully designed electoral strategy also entails the targeting of a seat occupied by a Liberal Democrat MP, one held by Labour and one held by an independent candidate, Sky News reported on Wednesday.
The party's controversial leader, Nigel Farage, will stand in Kent's South Thanet for a second time following UKIP party members' nomination on Tuesday evening. Farage was unsuccessful in his attempt to gain this seat in 2005.
UKIP has largely chosen to focus on constituencies underscored by political turmoil in recent times, with many relevant MPs stepping down or being ousted.
If Johnson and Farage are mavericks British politics is doomed | Owen Jones http://t.co/jxfqStAl19 Agreed: they are establishment repacked

— Richard Murphy (@RichardJMurphy) August 27, 2014
Following UKIP's stalwart victory in the European elections, the party's contenders are unlikely to underestimate the challenge Farage and his associates pose in Britain's 2105 general election. Farage himself dubbed UKIP's gains of over 27 percent in May's EU elections as a "political earthquake".
"Our game is to get this right, to find the right candidates, and focus our resources on getting a good number of seats in Westminster next year," Farage said in the aftermath of the EU elections.
Most of the over-4 million British voters who backed UKIP in May's EU elections say they are determined to cast their votes for the party once again in the upcoming national election in 2015.
The three tired old parties don't want UKIP breaking through into Parliament and they most certainly do not want to see me elected

— Nigel Farage (@Nigel_Farage) August 27, 2014
Earlier this month, 30 percent of Conservative voters said they would prefer their party to enter into coalition with UKIP if it fails to win next year's general election outright.
UKIP voters, however, did not share the same enthusiasm for power sharing, with 39 percent calling for any MPs they secure next May to remain outside a coalition deal.This compares with 24 percent who said UKIP should enter government with the Conservatives, 13 percent who thought Farage's party should team up with Labour and 8 percent who suggested UKIP could form a coalition with the Lib Dems.
Farage run for Parl "good for British politics" say 33% v 54% 'bad' in my daily @YouGov polling for @TimesRedBox - http://t.co/no4ns68csC

— Stephan Shakespeare (@StephanShaxper) August 27, 2014
In the polls, Labour currently boasts a 37 percent lead, while the Conservatives enjoy the support of 33 percent of likely voters. UKIP is polling at 13 percent, striding ahead of the Lib Dems, who are lagging at 8 percent.
But whether UKIP will succeed in becoming a truly national force in Britain's upcoming general elections remains to be seen.