UKIP donations outstrip Lib Dems by £170,000
Published time: 14 Aug, 2014 15:47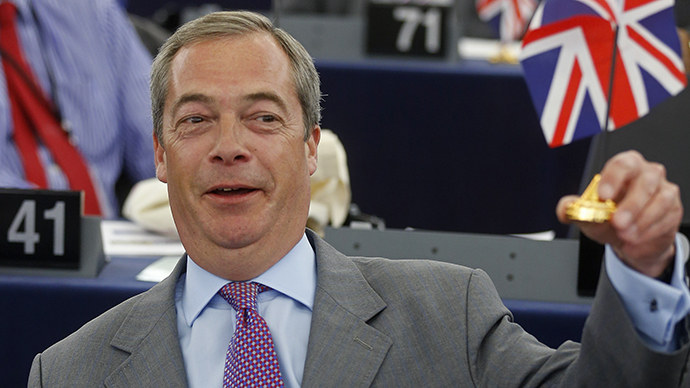 The UK Independence party (UKIP) has raised more money through donations than the Liberal Democrats for the first time, according to Electoral Commission figures.
Nigel Farage's Eurosceptic party raised £1.4 million in the second quarter, representing £170,000 more than Nick Clegg's party, currently in coalition with the Conservatives.
The figures reflect the period leading up to last May's European Elections when UKIP ran its biggest campaign to date, winning 27.5 percent of the vote and beating all other parties.
What is the First Past The Post (FPTP) system?

Under FPTP voting takes place in single-member constituencies. Voters put a cross in a box next to their favoured candidate and the candidate with the most votes in the constituency wins. All other votes count for nothing.

Where is FPTP used?

UK to elect members of the House of Commons

USA to elect the US Congress

To elect members of the lower houses in India and Canada
UKIP was also the recipient of the highest individual donation of any single party, receiving £1m from businessman Paul Sykes, a former Tory donor.
Sykes' donation represents the bulk of UKIP's donations, delivered via his company Highstone Group Ltd. The businessman also bankrolled the party's billboard poster campaign at the time of the elections.
The Conservative party remain well ahead in the funding figures, raising nearly twice as much as Ed Miliband's Labour party, the main opposition group, totaling £7.2m with the help of City donors.
Most of the over four million British voters who backed UKIP in May's EU elections say they are determined to cast their votes for the party once again in the upcoming national election in 2015.
In the polls, Labour currently boast a seven-point lead on their rivals at 36 percent, while the Conservatives enjoy the support of 29 percent of likely voters. UKIP is polling 19 percent, striding ahead of the Lib Dems who are squeezed into fourth place at 7 percent.
This is a cause for concern for Nick Clegg, who could find his party wiped out, as funding and membership numbers tumble. If Labour and the Conservatives fail to win an outright majority next year, it may fall to Farage to negotiate a coalition deal.
Britain's first-past-the-post electoral system, however, is likely to deny Farage more than a handful of MPs.
Nearly a third of Conservative voters have said they would prefer their party to enter into coalition with UKIP if it fails to win the election outright. Farage currently rejects this eventuality.
Sykes said the Conservatives should draw conclusions from such results. "At present Conservative MPs (with a few honorable exceptions) appear to be in denial about the scale of the popular uprising against our current rulers," he said in the wake of UKIP European Election success.