UK offers £6.5m for emergency Ebola research
Published time: 21 Aug, 2014 15:36
Edited time: 21 Sep, 2014 06:58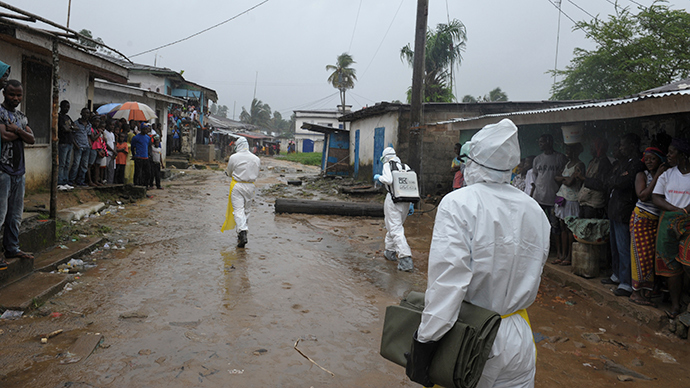 Researchers around the world are being offered £6.5 million to find ways to save the lives of people affected by the world's worst Ebola outbreak.
The UK government and the Wellcome Trust medical charity pledged a combined £6.5 million for an emergency research initiative.
Wellcome Trust Director Dr Jeremy Farrar says the gravity of the Ebola epidemic demands an "urgent response."
"We believe rapid research into humanitarian interventions and therapeutics can have an impact on treatment and containment during the present outbreak," Farrar said in a statement.
Expert teams from around the world are being invited to submit research proposals by September 8 for initiatives that can investigate new approaches for treating, preventing and containing the disease.
As of Wednesday, the number of deaths from Ebola had reached 1,350, according to the World Health Organization.
"We are launching an emergency call for research to strengthen what we know about Ebola and how it spreads," International Development Secretary Justine Greening said in a statement. "This will help us better equip those working on the ground so they can tackle the outbreak as effectively as possible and prevent more people contracting this terrible disease."
Wellcome, the world's second highest-spending charitable foundation, also announced a long-term investment in African science worth £40 million on Thursday to "develop the next generation of African health researchers." This money will go toward sub-Saharan scientists who are studying neglected tropical diseases, HIV, and tuberculosis.
The £6.5m program was announced a day after a director of Medecins sans Frontieres (MSF) accused Western leaders of taking "almost zero" interest in the crisis in Guinea, Sierra Leone and Liberia.
Experimental drug raises hopes
Currently there is no approved or scientifically proven drugs to treat Ebola, and no vaccine. However, the World Health Organisation has backed the use of untested products and is hoping for improved supplies of experimental drugs by the end of the year. Several experimental drugs are already in development.
An American doctor, Kent Brantly, was the first-ever Ebola patient to receive the experimental serum known as ZMapp. He will be released on Thursday and is said to have recovered fully from Ebola. This would be the first case of recovery.
ZMapp was given to three health care workers in Liberia who are showing "remarkable signs of improvement," according to Liberian officials. The drug's manufacturer, Mapp Biopharmaceutical of San Diego, said supplies of the drug had run out.