​UN calls for Ebola passenger screening as W. Africa death toll passes 1,200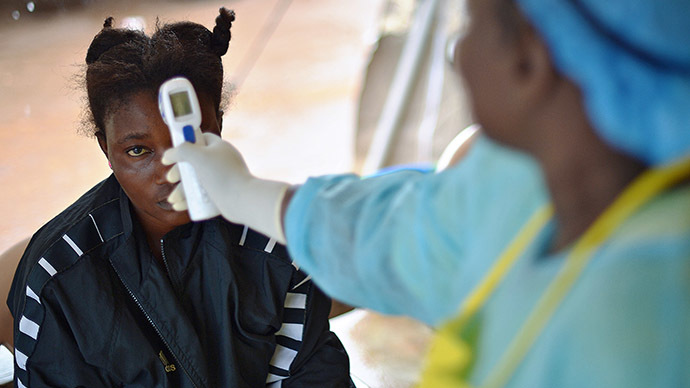 The number of cases of West Africa's Ebola outbreak has climbed to 2,240, including 1,229 deaths, the World Health Organization said. It urged affected countries to screen all people at international airports.
The Ebola virus killed 84 people between August 14 and 16, the WHO said Tuesday, reporting the toll in Guinea, Liberia, Nigeria and Sierra Leone.
Confirmed infections jumped by 113, bringing the total number of cases to 2,240, said the WHO, which is the United Nations health agency responsible for dealing with epidemics.
The virus, which has hit four West African nations since it broke out in Guinea at the start of the year, is by far the deadliest since Ebola was discovered four decades ago in what is now the Democratic Republic of Congo.
The WHO called for Ebola-affected countries to conduct exit screening of all people at international airports, seaports and major land crossings "for unexplained febrile illness consistent with potential Ebola infection."
"Any person with an illness consistent with EVD [Ebola virus disease] should not be allowed to travel unless the travel is part of an appropriate medical evacuation," the WHO said in a statement. "There should be no international travel of Ebola contacts or cases, unless the travel is part of an appropriate medical evacuation."
Meanwhile, Liberian authorities reported that the 17 Ebola carriers who fled a quarantine center in Monrovia, the capital of Liberia, have been tracked down and re-hospitalized.
The patients escaped from the medical center over the weekend when it was attacked by looters who stole bloodstained sheets and mattresses.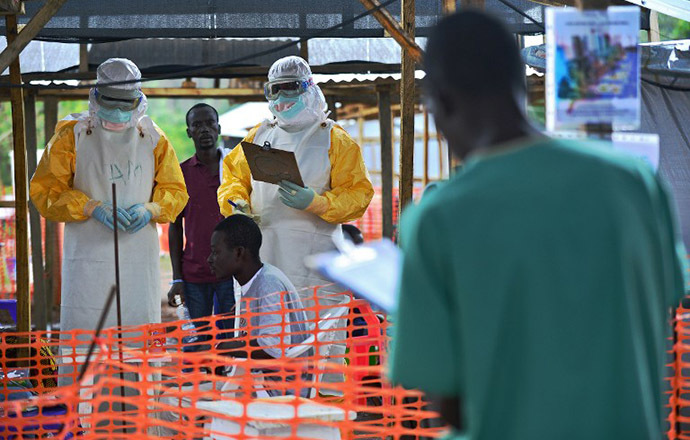 Health officials combed Monrovia's West Point shanty town, which is home to at least 50,000 people, to try to stop the virus from spreading further in a country where more than 400 people already have died.
"This West Point situation really was our greatest setback since we started this fight, and we are working on making sure that we can correct that situation," Liberian Information Minister Lewis Brown told AP.
"We have learned a bit of bitter lesson here," he added.
One of the most virulent diseases, Ebola has a case fatality rate of up to 90 percent. The infection is transmitted by direct contact with the blood, body fluids and tissues of infected animals or people. Severely ill patients require intensive supportive care. During an outbreak, those at higher risk of infection are health workers, family members and others in close contact with sick people and deceased patients.
Ebola outbreaks can devastate families and communities, but the infection can be controlled through the use of recommended protective measures in clinics and hospitals, at community gatherings, or at home.
According to the WHO, most infections in Liberia, Guinea and Sierra Leone are taking place in the community when family members or friends take care of someone who is ill or when funeral preparation and burial ceremonies do not follow strict infection prevention and control measures.
Health authorities are struggling to figure out why the Ebola virus started in Guinea, which has never seen it before, and how this particular strain of Ebola, Ebola Zaire which comes from Central Africa, got to West Africa.
"We'll have to wait for the outbreak to conclude," Daniel Bausch, a virologist from Tulane University, who worked for the WHO in West Africa from 1998 to 2008, told Wired.com. "Even then we may never know."
Yet researchers are starting to find answers, mapping out the connections between communities where people have contracted Ebola, testing bats from local forests to determine if Ebola has been in the area all along, and talking to residents about other conditions that could have caused this outbreak to spread so fast and so far — weather, government help and hospital safety.
There is no proven treatment or vaccine for Ebola; researchers are scrambling to concoct an antidote to it and are accelerating human clinical trials for what is hoped to be a promising new vaccine. Last week, the Canadian government said it would donate 800 to 1,000 doses of an experimental Ebola vaccine to the WHO for use in Africa. Earlier this month, the WHO said that it is ethical to use untested drugs and vaccines in the Ebola outbreak in West Africa.
You can share this story on social media: