US corporations boycott Glasgow over Gaza support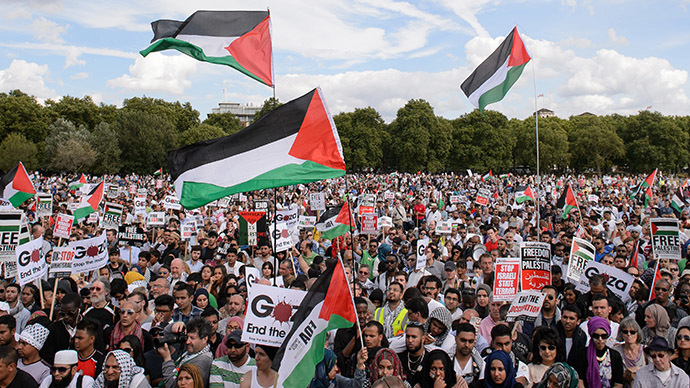 Hundreds of US businesspeople have scrapped plans to visit Glasgow, following the Scottish city's decision to fly the Palestinian flag following Israeli military operations in Gaza.
The visitors represented major US corporations such as Wal-Mart, ExxonMobil and Coca-Cola, and were due to visit the Glasgow as a reward for investing millions into its economy.
The delegation of 600 CEOs and business leaders was organized by the vice president of a leading Fortune 500 company, Richard Cassini.
However, following Glasgow City Council's decision to fly the flag over its city chambers as a sign of solidarity with Gaza, Cassini wrote to Glasgow's Lord Provost, Sadie Docherty, canceling the planned event.
— Labour Palestine (@lfpme) August 8, 2014
"We were scheduling six days in Glasgow, three for business and three for leisure time," Cassin wrote. "Having read your statement endorsing Hamas and its leadership due to the number of Muslims in your city, I have decided to cancel all plans for our trip. We are a Fortune 500 Company, so costs were really not a serious consideration, location was," he said.
"Hopefully, the Muslim population that you so sincerely endorse will have the spending power of the very people you have chased away so well."
While Glasgow City Council has acknowledged receiving the email, they have not responded "because of the volume" of emails relating to the council's decision to fly the Palestinian flag.
"The council has received more than 1,500 emails/calls/online forms, etc, about the flag and is responding to each" of tem, a council spokeswoman said.
The council sparked controversy when it decided to raise the Palestinian flag in the wake of the ongoing conflict between Israel and Gaza, which began in July.
In a letter to the Mayor of Bethlehem, Israel, Docherty offered her "heartfelt sympathy" to the people of Gaza.
"Glasgow is home to many friends of Palestine and this is a deeply distressing time for them. They represent a variety of ethnicities, political persuasions, faiths and none. However, they are united by a common desire to support the Palestinian people," she said.
People Make Gaza: Why Glaswegians are invested in the Palestinian people http://t.co/uXfciPTmEQpic.twitter.com/vCzTSsSXjg

— STV Glasgow (@STVGlasgow) August 8, 2014
The council's decision was met with criticism from a number of Jewish representative groups, including the Glasgow Jewish Representative Council, who referred to the act as "the worst kind of gesture politics".
It "does nothing to alleviate the suffering on either side of the conflict," they added.
Cassini insisted his decision to abandon the business leaders' trip to Glasgow would not be reversed.
You can share this story on social media: