​London activists arrested after pro-Palestine demo shuts down arms factory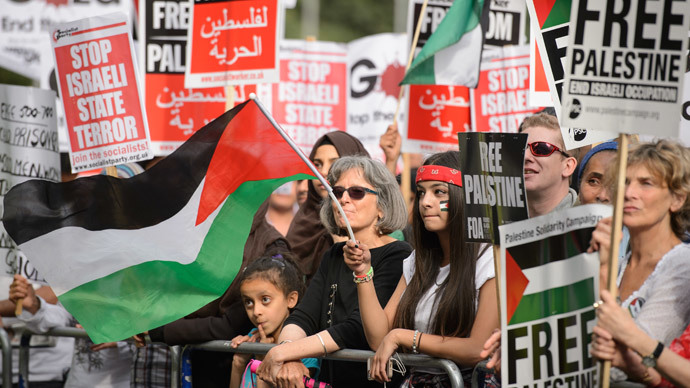 Pro-Palestinian protesters who shut down a factory allegedly producing Israeli weapons have been arrested and placed in custody by British police.
UK protest group 'shuts down' factory for supplying Israel arms
Joseph Lee, 29, along with eight other activists from the London Palestine Action Group (LPAG) occupied the premises of UAV engines, a subsidiary of the Israeli defense contractor Elbit, based in Staffordshire.
Lee is the only activist to have been formally charged by police so far.
Activists occupy Elbit, Israel's largest weapons company & world's largest manufacturer of drones #StopArmingIsraelpic.twitter.com/mmieMDtqZS

— Noor (@kelo3adi) August 5, 2014
The other activists, who have not been named, are said to be three men and five women, aged between 20-30 years old.
They were arrested on Wednesday night on suspicion of trespassing and are currently in custody.
Around ten activists from the LPAG occupied the factory on Tuesday morning, and hung banners from the roof saying "UK: Stop Arming Israel".
#BDS protest @ UK-based arms company Elbit. Shares shot up $59.16- $64.40 after #Gaza attack on hopes of extra sales pic.twitter.com/sXNUOl4yXP

— Tom Godwin (@TomGodwin2) August 6, 2014
During the 48-hour occupation, the group demanded the closure of the factory along with the ending of "all forms of military trade with Israel."
According to the LPAG, Elbit systems is one of the world's leading manufacturers of unmanned aerial drones, which many suspect the Israel Defense Forces (IDF) have used in their ongoing offensive in Gaza.
The group also says that the factory is part of the 'Watchkeeper program' which "is leading the manufacture of a new generation of drones for the UK military."
Solidarity to @LondonPalestine, currently occupying Israeli arms company Elbit systems http://t.co/4kJBnH8gbL#StopArmingIsrael

— CAAT (@wwwcaatorguk) August 5, 2014
Staffordshire police have said they gave warning to the protesters that they would face arrest if they continued to occupy the factory, and that "appropriate action" was taken to "uphold the law."
Police Chief Inspector Jane Hewitt also said that her officers had "been in regular conversation with the protesters and [had] explained on numerous occasions that their actions in this protest [would] result in their arrest for aggravated trespass."
The arrests come during a turbulent week in British politics, in which a senior foreign office minister, Baroness Warsi, resigned over the government's policy toward Israel's offensive in Gaza, which she called "morally indefensible."
Deputy Prime Minister Nick Clegg has also spoken out against Israel's actions, telling listeners on LBC radio on Thursday that Britain should revoke all sales of military equipment to the country, if the current 72-hour ceasefire is broken.
According to anti-arms group, Campaign Against the Arms Trade (CAAT), Britain has signed off on over 130 arms deals worth £42m with Israel since 2010, which has included developing high-precision drones and state of the art ammunition systems.
You can share this story on social media: