​UK protest group 'shuts down' factory for supplying Israel arms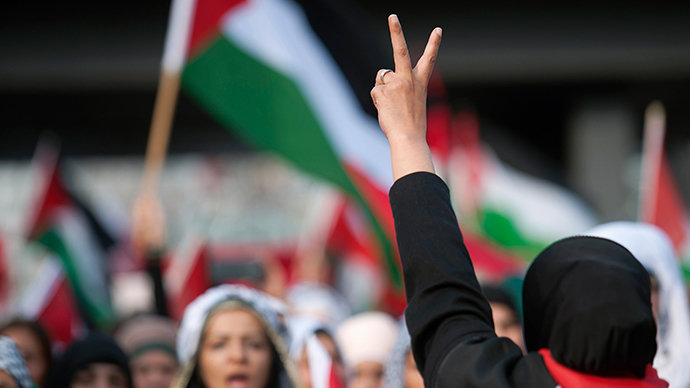 A group of pro-Palestine activists have allegedly shut down operations in a Staffordshire factory that they say supplies arms to Israel.
@PSCupdates PLS RT: Activists from LPA shut down the Elbit factory in Shenstone #StopElbit#StopArmingIsrael#Gazapic.twitter.com/sDWcuUoox0

— LDNPalestineAction (@LondonPalestine) August 5, 2014
Around 10 activists from the London Palestine Action Group have taken to the roof of Elbit systems, an Israeli company with a subsidiary based in Shenstone, near Birmingham.
According to the LPAG, Elbit systems is one of the world's leading manufacturers of unmanned aerial drones, which many suspect the Israel Defense Forces (IDF) have used in their ongoing offensive in Gaza.
— Mondoweiss (@Mondoweiss) August 5, 2014

The group also says that the factory is part of the 'Watchkeeper program' which "is leading the manufacture of a new generation of drones for the UK military."
The protest began in the early hours of Tuesday morning, with protesters hanging a banner across the factory roof saying "UK: Stop arming Israel".
Elbit Systems are just one of the UK-based companies supplying arms to Israel. Find out more here http://t.co/n2CcgOm6E8#StopArmingIsrael

— CAAT (@wwwcaatorguk) August 5, 2014
According to the group's Tumblr blog, the activists chained the doors of the factory shut, and are demanding the closure of the factory, along with'all forms of military trade and cooperation with Israel.'
The blog goes on to say: "The factory that we are occupying produces engines for drones and is owned by Elbit Systems, Israel's largest military company and the world's largest drones producer. Drone engines manufactured at this factory have been [sic] exported to Israel in 2010, 2011 and 2012 and Elbit Systems drones are being used in Israel's ongoing massacre. Any claims that components manufactured at this factory are not being used in Israel's current attack on Gaza are not credible."
Huge respect to the protesters on the Elbit Factory!! UK: STOP ARMING ISRAEL!!! #FreePalestine

— Humz:) (@7umairaa) August 5, 2014
#UAVEngines factory being shut down right now in Shenstone is wholly owned subsidiary of Israel's Elbit. #StopArmingIsrael

— Rafeef Ziadah (@RafeefZiadah) August 5, 2014
Police have been called to the scene and have closed off the road leading to the factory.
Staffordshire Police spokeswoman Faye Casey said: "Police were called to a business premise on Lynn Lane, Shenstone, just after 5.20am this morning following a report of a public protest on top of a building."
"Officers are in attendance to ensure the protest remains peaceful and safe and we are working closely with the business and the protestors," she added.