UN was right to speak out on the Gaza crisis, says UK Prime Minister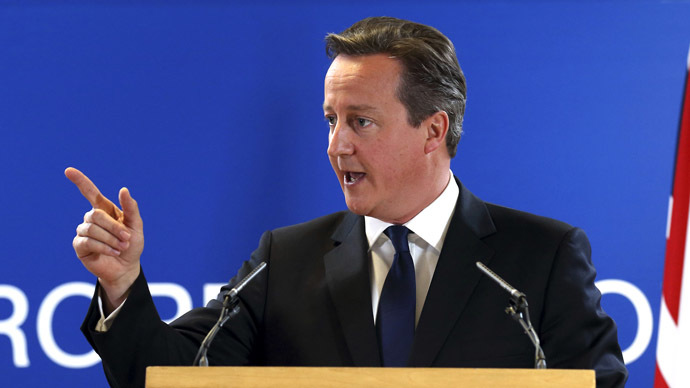 David Cameron has endorsed the United Nation's recent criticism of an IDF attack on a UN-run school in Gaza, which culminated in ten casualties. UN Secretary General, Ban Ki Moon, condemned the assault as a "moral outrage" and "criminal act".
Cameron failed to indicate if he wholly agreed with Ban Ki-moon's condemnation of Israel's recent strike, however, merely emphasizing that the event had brought about"an appalling loss of life," and civilians should not be targets.
Reflecting on the IDF's destruction of the school, the PM defended the UK government's position on the Gaza crisis, stating the coalition had clearly called for "an immediate, comprehensive, humanitarian ceasefire."
"We want this conflict to stop - and we obviously think that it's an appalling loss of life," Cameron said in an interview with the BBC. He added that the "fastest way to stop this conflict" would be if Hamas ceased firing rockets at Israel.
In response to Ban's statement that the IDF's strike was a "moral outrage," Cameron backed the UN chief's decision to speak out against the IDF's actions, but was unwilling to directly confirm whether he believed the Israeli military had broken International Law.
"I think the UN is right to speak out in the way that it has because international law is very clear that there mustn't be the targeting of civilians or the targeting of schools, if that's what's happened," he said.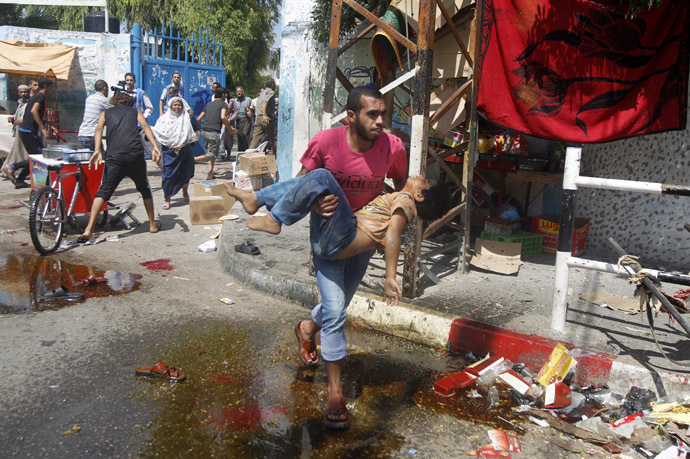 Pressed on whether the destruction of this school amounted to a clear contravention of International Law, Cameron merely stated that a proportionate use of military force and non-targeting of civilians were central to its foundations.
"I'm not an international lawyer... but international law is very, very clear that use of force always has to be proportionate and civilians should not be targeted," the PM said.
Cameron's comments follow a heated row between Labour Party leader Ed Miliband and the Conservative party, in which Miliband's criticism of Cameron's failure to publicly condemn and oppose Israel's ongoing military offensive in Gaza.
Miliband suggested that the coalition government needed to clearly condemn the Israeli administration's actions as "unacceptable and unjustifiable."
"What I want to hear from David Cameron is that he believes that Israel's actions in Gaza are wrong and unjustified, and we haven't heard that from him. I think that's what the British public are thinking as they are seeing these tragic events unfolding on our television screens," he said.
In response to Miliband's criticism, the Tory party suggested he was posturing to score political points.
A spokesperson at Number 10 commented, "The prime minister has been clear that both sides in the Gaza conflict need to observe a ceasefire. We are shocked that Ed Miliband would seek to misrepresent that position and play politics with such a serious issue."
Miliband rejected Downing Street claims his criticism amounted to an attempt to score political points, however, saying Cameron had previously criticized Israel for deploying disproportionate force in Lebanon in 2006.
In an interview on Channel 4 news, Miliband called for a dramatic shift in the government's rhetoric on the crisis, emphasizing politicians need to be "speaking out without timidity and truthfully about what is happening." He also said that Israel's actions were utterly counterproductive because each death of an innocent Palestinian civilian would most likely intensify support for Hamas.
Miliband said he was speaking as "a friend of Israel," but added that Israel's ongoing offensive was eroding international support for the Middle Eastern state.
"Day by day as we see these outrages on our television screens, Israel is losing friends in the international community," the Labour leader warned.
On Saturday night, Britain's Foreign Secretary Philip Hammond reportedly had a telephone conversation with two senior ministers from Prime Minister Benjamin Netanyahu's cabinet. Hammond allegedly told Israel's Foreign Minister Avigdor Lieberman and Justice Minister Tzipi Livni that he welcomed reports that IDF troops may soon be withdrawn, but was "appalled" by the recent deaths of civilians near the UN school.
Deputy Prime Minister Nick Clegg has publicly condemned Israel's military action in Gaza as disproportionate, and also called for direct negotiations between Hamas and Israel. Former Foreign Secretary William Hague's parliamentary secretary, MP Margot James, echoed these sentiments in a letter recently issued to Hammond.
Health officials based in Gaza report 1,800 Palestinians, mostly civilians, have lost their lives since the conflict began almost four weeks ago. A further 9,000 Palestinians have reportedly been injured. Sixty-four Israeli soldiers have also died, along with two Israeli civilians.
You can share this story on social media: