British aid worker killed in Gaza - reports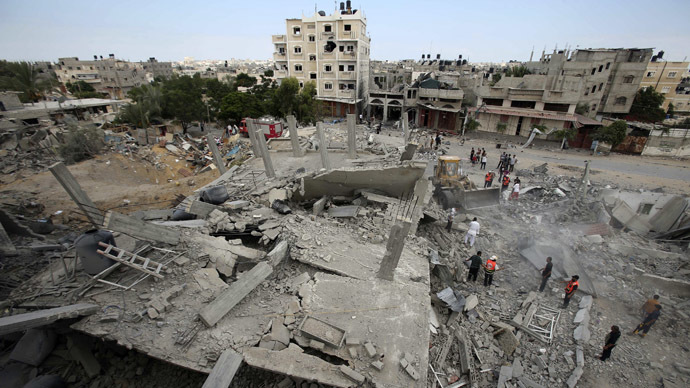 The British Foriegn Office is 'urgently investigating' claims that a British aid worker has been killed in Gaza, according to reports from British media.
The aid worker was named as Kadir Islam, from Rochdale in Lancashire, according to a social media report. However, the source of the report has since been deleted.
— Fatima Manji (@fatimamanji) August 4, 2014

The reports suggest that he was hit by a missile while carrying medical supplies to a hospital in Rafah. The missile is believed to have been fired by Israeli forces.

The reports came as Israel declared a partial ceasefire Monday morning, saying it wanted to allow humanitarian aid to reach Gaza.
"We are aware of the reports of the death of a British national in Rafah and are urgently looking into them," a spokesman for the department said.

— Fatima Manji (@fatimamanji) August 4, 2014
Prime Minister David Cameron has expressed his concerns about the report, and said it reinforced the need for the conflict to come to an end.
"I'm extremely concerned about these reports and we are doing everything we can to get to the bottom [of them] and find out exactly what has happened.
"I don't want to say anything before we've been able to do that but this only reinforces the need for an immediate unconditional humanitarian ceasefire observed properly by both sides" he said.
The news comes as Cameron defendedthe UN speaking out against an Israeli attack near a UN school in Gaza.
The attack, which killed 10 people near a school in Rafah, was called a "moral outrage and criminal act" and a "gross violation of international law" by UN Secretary-General Ban Ki-Moon.
It was the seventh time a UN shelter had been hit since the conflict began less than a month ago.
It is currently unclear whether the man was working for a registered charity, although Muslim Aid, one of the UK's largest Islamic charities, told reporters he does not work for them.
Following the death of a Thai worker in Israel on 24th July from mortar fire, the British man's death may be the second foreign casualty recorded since the offensive began three weeks ago.
Gaza officials say that over 1,800 Palestinians have been killed and 9,080 injured in the offensive, whilst 66 Israelis have died, with all but two being soldiers.
Earlier, British Foreign Secretary Phillip Hammond called the rising death toll caused by the Gaza offensive "intolerable" and called for a long-term humanitarian ceasefire on both sides.
He added that "a broad swathe" of British public opinion felt "deeply disturbed by what it is seeing on its television screens coming out of Gaza."
On Tuesday, the UK's first Muslim female senior minister, Baroness Sayeeda Warsi, resigned from the government over its policy in Gaza.
"With deep regret I have this morning written to the Prime Minister & tendered my resignation. I can no longer support Govt policy on #Gaza" she tweeted.
With deep regret I have this morning written to the Prime Minister & tendered my resignation. I can no longer support Govt policy on #Gaza

— Sayeeda Warsi (@SayeedaWarsi) August 5, 2014
London Mayor Boris Johnson also hit out at Israel's offensive in Gaza, telling LBC radio, "I think it is disproportionate, I think it is ugly and it is tragic."
You can share this story on social media: