​8 children killed as missiles hit Gaza playground, hospital
Hopes for an imminent end to the Gaza conflict are fading, with renewed violence bringing new casualties. Israel and Hamas blame each other after eight children were killed and 46 others injured by a missile that landed in a Gaza refugee camp playground.
Israel launches ground incursion in Gaza Strip LIVE UPDATES
Monday was marred by renewed violence in war-torn Gaza, where the Israeli operation against Hamas has been ongoing for three weeks. The violence came as Muslims around the globe celebrated one of their religion's biggest holidays – Eid-ul-Fitr, the end of the holy month of Ramadan.
A massive explosion rocked a public garden in northern Gaza, killing eight children and two adults and injuring 46 others, according to Palestinian medics. A health official at nearby Shifa Hospital said the children were playing on a swing when the strike hit the park in the beachfront Shati refugee camp on the edge of Gaza City, AP reported.
"The children were playing and were happy, enjoying Eid, and they got hit. Some lost their heads, others their legs and hands," eyewitness Nidal Aljerbi said.
The refugee camp park was attacked just minutes after Shifa Hospital's outpatient clinic was hit by another strike, causing more casualties.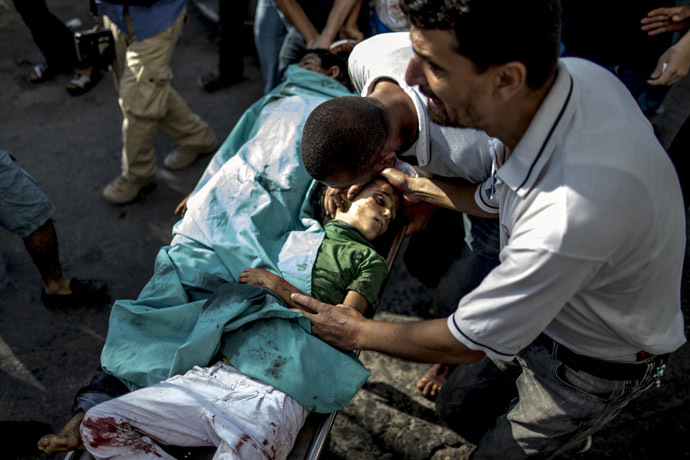 The World Health Organization said in a statement that it was "appalled by the continuing trend for health-care facilities, staff and vehicles to come under direct fire in Gaza" since the escalation of violence on July 8."
"The Organization calls on all parties and individuals to respect and protect the integrity of health systems, and assure the safety of patients, health workers and health-care facilities," it said.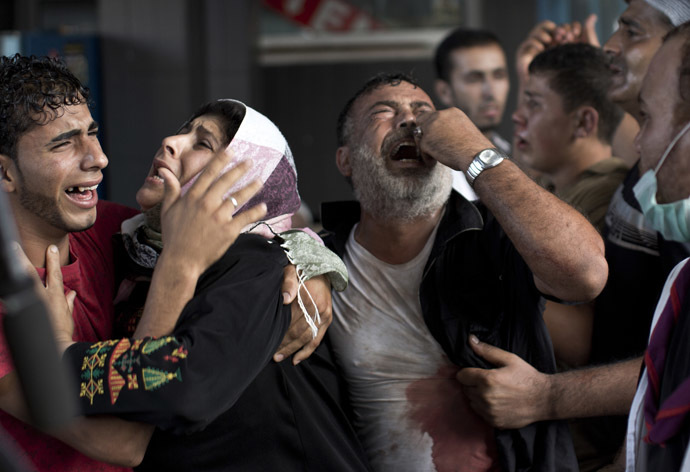 Local residents have blamed the Israeli military for the airstrikes. The Israel Defense Forces (IDF), however, denied involvement, saying that "Al-Shifa Hospital and Al-Shati Refugee Camp were struck by failed rocket attacks launched by Gaza terrorists."
Gaza terrorists fired rockets today, hoping to kill Israelis. Instead, they hit a hospital & a refugee camp in Gaza. pic.twitter.com/dXNhtCHTQc

— IDF (@IDFSpokesperson) July 28, 2014
With at least 44 Palestinians killed and 12 earlier victims' bodies recovered from the rubble on Monday, the overall death toll of the Israeli military offensive has increased to at least 1,088, Ma'an news agency reported. Meanwhile, the Israeli death toll has exceeded 50, with five more IDF troops killed in combat and Hamas cross-border mortar fire.
In addition, four IDF soldiers were killed along the Gaza border today as a result of mortar fire. Their families have been notified.

— IDF (@IDFSpokesperson) July 28, 2014
Also on Monday, gunfire broke out after Palestinian fighters slipped into Israel via a tunnel near Nahal Oz, a kibbutz collective village east of Gaza City. There have been conflicting reports on the incident. While the IDF said it thwarted the attack and "killed one of the terrorists," Hamas claimed it had killed 10 Israeli soldiers and returned home safely.
Following the infiltration, the Israeli army advised Palestinians to flee their homes in areas around Gaza City, which is normally done in preparation for strikes.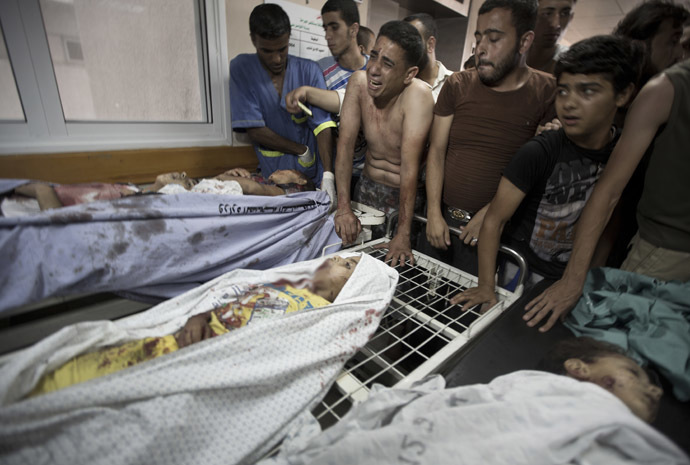 "Phone calls were made and text messages were sent out to the civilian population of Shuja'iyya, Zeitoun and eastern Jabalia, calling them to evacuate themselves immediately towards central Gaza city," the IDF said.
In a televised address to the nation, Israeli Prime Minister Benjamin Netanyahu said the country has to be prepared for a "prolonged" campaign.
"We will continue to act with force and discretion until our mission is accomplished," Netanyahu said, adding that Israeli troops will not leave Gaza until they have destroyed Hamas' tunnel network.
You can share this story on social media: