​Projected protest: Pro-Palestine group beams flag on to Parliament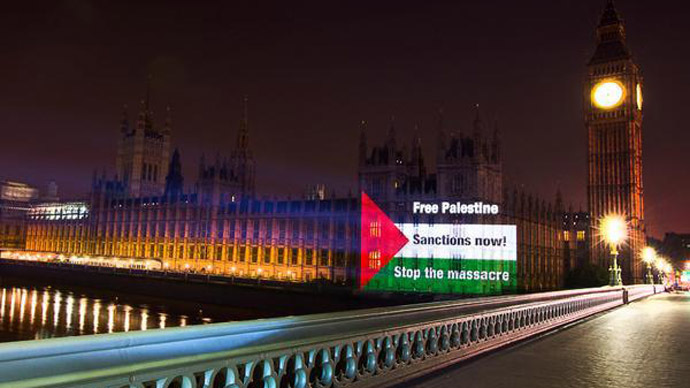 A pro-Palestine group projected the national flag of Palestine on the Houses of Parliament, repeating their call for an end to Israel's offensive in Gaza. Critics called the move "offensive to the British public."
The Palestine Solidarity Campaign (PSC), projected the flag, along with messages calling for sanctions to be imposed on Israel. On top of the flag was the slogan 'Free Palestine'.
The act of protest occurred hours before a three-day ceasefire brokered by US Secretary of State John Kerry. Reports, however, suggest that the ceasefire has been broken since then.
While the PSC has been praised by many on social media, others have referred to the stunt as irresponsible and provocative.
Well done & #FF .@PSCupdates for having the guts to project the Palestine flag onto Parliament #GazaUnderAttackpic.twitter.com/WyieaTuFAA

— The Akh (@HotterThanCurry) August 1, 2014
I do not approve of the PSC raising the flag of Palestine on the British Houses of Parliament; this is an irresponsible act.

— Saad Chakra (@SaadChakra) August 1, 2014
Jonathan Arkush, vice-president of the Board of Deputies of British Jews, told Mailonline that the stunt was "offensive to the British public."
He called the PSC an "irrelevant and extremist" pressure group "motivated by hatred of Israel."
"We don't need to import conflicts in the Middle East to this country. We should instead be exporting values and efforts designed to bring about a peaceful resolution to the conflict," he added.
However, the PSC defended their actions, saying that the British government was "standing by while Israel slaughters Palestinians."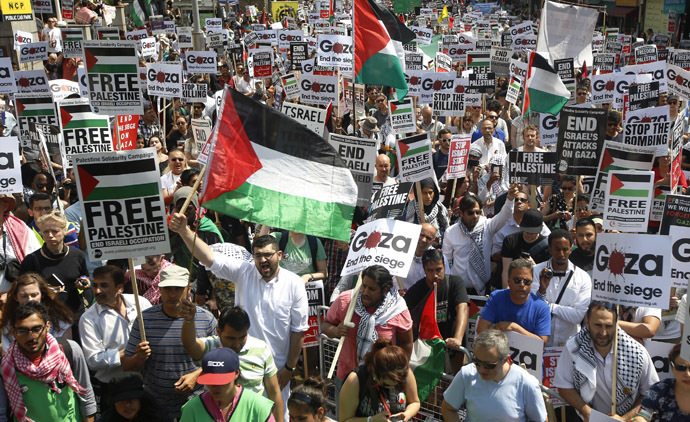 "David Cameron has failed to listen to the voices of hundreds and thousands of British people who have taken to the streets. He has failed to stand up for an occupied people being ruthlessly murdered by an occupying power," said Hugh Lanning, chairman of the PSC.
Pressure on the UK government to act against Israel's occupation has developed significantly as the offensive goes into its 26th day.
The Palestinian flag is being flown from Tower Hamlets Town Hall http://t.co/tfzGUilnT5pic.twitter.com/2UZ9WFk5OG

— EastLondonAdvertiser (@ELAdvertiser) July 30, 2014

National flags of Palestine have been raised in a number of local council buildings, including Bradford, Preston and the London borough of Tower Hamlets.

Last week, 45,000 people marched on London to protest against Israel's actions in Gaza, with other demonstrations taking place the UK's major cities.
Since the offensive began, more than 1,400 Palestinians have been killed, with a large percentage of casualties being women and children.
Fifty-six Israeli soldiers and three civilians have also died as a result of the offensive.
You can share this story on social media: