Activists occupy UK govt building over heavily-redacted fracking report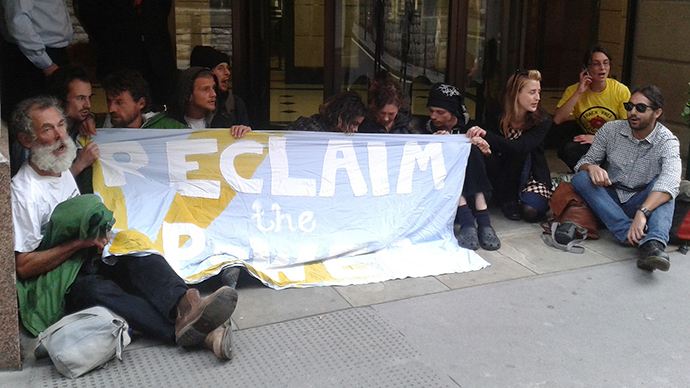 A group of campaigners from Reclaim the Power are currently occupying the Department of Environment, Food and Rural Affairs' (DEFRA) headquarters in London, following the government's decision to censor a report on the potential impacts of fracking.
Three anti-fracking and climate justice activists superglued themselves to DEFRA's main doors at approximately 8 am this morning, using reinforced arm tubes to prevent access. Another scaled the building and unfurled a large banner inscribed with the message: "What's to hide DEFRA? – Don't frack with our future."
The activists wore black tape pasted across their mouths in an effort to convey the scale of censorship the government had recently employed prior to publishing its report.
'Shale Gas: Rural Economy Impacts,' which details the potential impacts of fracking on rural communities throughout Britain, was released following a Freedom of Information (FOI) request tendered to DEFRA.
Want to know the findings of UK Govt report on the impacts of shale gas on rural communities? Me too. #redactedpic.twitter.com/hqcBm3u0IN

— Sarah Merrick (@SpeakSarahSpeak) August 11, 2014
The document was published with extensive sections of the text missing – a total of 63 separate redactions. Redacted portions of the study spanned its executive summary, a section on "Hydrocarbon reserves," another on "Investment and job creation," a third documenting areas "likely to be affected by shale gas licensing," a segment relating to fracking's economic impacts on rural communities, and large segments on the "social impacts" of shale gas drilling on rural locales. A mere three paragraphs remained in the report's conclusion.
Reclaim the Power campaigners maintain that a report pertaining to UK health policy has also been redacted, along with varying estimates that suggest the shale gas industry lacks commercial viability.
Cameron wants to frack half the country, but today the WHOLE country is resisting! RT if you're with us! pic.twitter.com/6bc7fLDGJs

— No Dash for Gas (@nodashforgas) August 18, 2014
Lindsay Alderton, one of the campaigners currently superglued to the entrance of DEFRA's headquarters, questions the level of censorship employed by the government prior to publishing this report.
"Why is it that 63 segments of the DEFRA report were blacked out from public view," she asked. "What is it about the dangers of fracking that our government doesn't want us to know?"
National day of action
As part of a nationwide day of direct action, coordinated by the Reclaim the Power camp near Bristol, campaigners have also occupied a potential fracking site in Lancashire, shut down a campus on Swansea University, and blockaded both entrances to energy firm IGas' headquarters.
In the case of IGas, 15 campaigners from far-flung locations throughout the UK have occupied both entrances to the energy firm's headquarters in central London in protest at the government's endorsement of shale gas drilling.
IGas have carried out exploratory drilling at Barton Moss, Lancashire. The firm's operation at the site prompted over six months of protest from locals.
Around a dozen fracking protesters at iGas HQ in London. Blockading front entrance here and side entrance too pic.twitter.com/Tq1e1YK9YF

— Adam Vaughan (@adamvaughan_uk) August 18, 2014
As part of this nationwide day of action, hundreds of Reclaim the Power protesters also marched in solidarity with the Operation Mothers and Grandmothers (OMG), who have staged a 10-day occupation of a site earmarked for potential fracking by oil and gas firm Cuadrilla Resources, which has as its chairman Lord Browne, the former CEO of Anglo-American oil and gas giant BP.
Anti-Cuadrilla protesters made their way down Blackpool's iconic promenade on Monday and staged a "die-in" demonstration close to Blackpool Tower.
Eleven activists from Reclaim the Power also occupied fracking company Cuadrilla's northern headquarters. The company's head office is located 2 kilometers from a rural site Cuadrilla hopes to frack in.
The group of activists, comprised of an array of individuals who travelled from other UK regions where plans to frack have emerged, entered the office at 11.30 am. The campaigners subsequently read a statement to workers based there outlining their motivations for staging the occupation.
The formal statement emphasized Cuadrilla's unyielding attempts to operate in the locale, irrespective of widespread resistance to shale gas drilling in the region.
BREAKING: #Cuadrilla's Blackpool offices occupied! pic.twitter.com/fojQKsWLoy#ReclaimThePowerpic.twitter.com/M9iG1zq7nb

— No Dash for Gas (@nodashforgas) August 18, 2014
Several members of the group have secured themselves in the building's main foyer using locks and plastic arm tubes, and reportedly intend to remain there until they are forcibly removed by police.
Commenting on the protest, a local Blackpool grandmother and resident said: "Cuadrilla have come into Lancashire and attempted to manipulate and buy our local councillors and our local businesses. They have sought out and bought into the business influencers. We believe this is underhanded and a dirty way to do a dirty business."
Another local resident, David Martin, said two earthquakes and well failures had afflicted the area since Cuadrilla's arrival, claiming the firm had "misled local business owners and residents about the true business of shale gas extraction. We have the benefit of hindsight gifted to us by those in the USA, Australia, Canada and elsewhere who have been living with the results of this industry's activity and we would be foolish to ignore this."
The Reclaim the Power camp has also inspired a group of concerned citizens, students and graduates from Swansea to shut down construction works at Swansea's University's Bay Campus. The protestors dressed as "mad scientists" for the occasion, according to Reclaim the Power.
A tripod and a rainbow! Great pic from this morning's Swansea Bay Uni campus action #ReclaimThePowerpic.twitter.com/FIPhpTUj1d

— No Dash for Gas (@nodashforgas) August 18, 2014
The protest was staged to highlight planned research to be carried out by Swansea's Energy Safety Research Institute, which will focus on long-term "strengths" in chemical and petroleum production, specifically fracking. The primary collaborator will be BP.
Heather Corvid, a student based at Swansea University, commented: "The fossil fuel industry is unequivocally driving us towards a global climate crisis. We will not keep dangerous climate change at bay without halting our extraction of fossil-fuels. Ironically, the Bay Campus will end up under water if research they are doing means we frack our future."
You can share this story on social media: