Major UK department store to sell school hijabs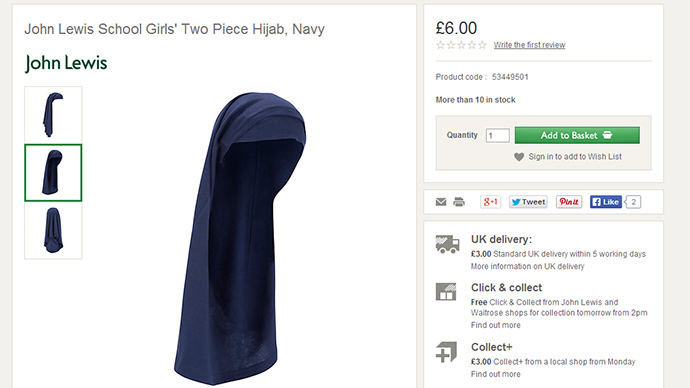 The British retailer John Lewis is to offer the hijab in its school uniform range for the first time in stores in London and Liverpool.
John Lewis has signed contracts with two schools, one of which is in northwest London and was set up to educate Muslim girls only, while the other is in Liverpool and welcomes students from any religious or non-religious community.
The Islamia Girls' School in northwest London was set up in 1983 by Yusuf Islam, better known as the singer Cat Stevens before his conversion to Islam in 1977.
The Belvedere Academy in Liverpool was founded 130 years ago and is a non-denominational school for girls. It was the first school in the UK to become an independent academy in 2007.It was recently judged by Ofsted, the UK schools watchdog, as "outstanding".
The hijab is a type of Muslim headscarves that covers the head and chest and is worn by Muslim girls and women after puberty in the presence of men who are not members of in their immediate family.
Unlike the hijab, the niqab, which is a full face veil, or the burka, covers the entire face and body, just leaving a small mesh screen to see through.
In London the hijab will be sold for £9 ($15) with a teal blazer retailing at £65 ($108) and an ankle length grey skirt for £40 ($66). In Liverpool the hijab will be sold more cheaply, at £6, and will be available in navy or back alongside a formal uniform with a blazer for £40 ($66).
The fact that a mainstream, upmarket UK retailer such as John Lewis has started to supply the hijab will likely be welcomed by Muslim parents who until now have relied on specialist shops.
Last year the former Liberal Democrat Home Office minister, Jeremy Browne, called for a debate on if women and girls should be banned from wearing the veil in public places as is the case in France.
Most Muslim leaders in the UK rejected his remarks, with Mohammed Shafiq of the Ramadan foundation saying "whatever one's religion they should be free to practice it according to their own choices."
In France a ban on wearing the full face veil, the niqab, in public places was introduced by President Nicolas Sarkozy's government in 2010. The penalty for doing so can result in a 150 euro fine as well as forced instruction on French citizenship.
The European Court of Human Rights upheld the ban earlier this year, refusing to accept the arguments of a 24-year-old French woman that the ban violated her freedom of religion and expression.
In Spain, Barcelona has introduced a similar ban, as have some towns and cities in Italy.
But in Britain, which prides itself on its tolerance of other cultures and religions, there has been far more concern about an alleged plot by Islamic extremists to infiltrate schools in Birmingham with large numbers of Muslim students to overthrow secular head teachers and replace them with staff sympathetic to their own Muslim beliefs.
The police have opened an inquiry, Operation Trojan Horse, into the allegations and separate investigations are being conducted by the Department of Education and Birmingham City Council.
It also emerged earlier this year that a secondary school in Bradford, which has a large Muslim population, has removed its entire board of Muslim governors after serious disagreements with the head teacher. This was the third time this has happened in the city in recent months.
You can share this story on social media: