​UK teacher at 'Muslim-controlled' school breaks into student's cellphone - newspaper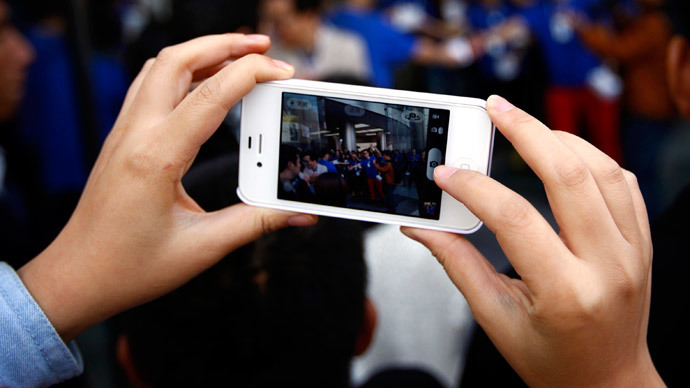 A teacher at a UK school, believed to be controlled by Muslim radicals, has broken into a student's phone to prove she was having a "forbidden" relationship with a boy. The school reportedly segregates boys and girls and encourages fasting before exams.
The 16-year-old student's mother has contacted the police over the matter, maintaining her daughter did not give her permission for the phone to be taken, reports UK newspaper, the Telegraph. Two members of staff at Park View School in Birmingham told the publication that one of the teachers stole the device and had it specially unblocked last month.
Photos of the girl and a fellow year-11 student as well as text messages were then used as evidence to convict them of being in a "forbidden" relationship. Shortly afterwards, the girl was suspended from Park View School a couple of weeks prior to her end-of-year exams.
"This was an appalling act of bullying and invasion of privacy," said a staff member to the Telegraph, adding the teacher involved was part of a "moral police" force, imposing Muslim values on students.
Although the school claims to be secular, reports of Muslim teachings being enforced in the institution are commonplace, according to documents leaked to the British press. Girls and boys were often forced to sit separately and students were allegedly encouraged to fast before their GCSE exams to promote "the right spiritual frame of mind."
Park View has denied that it segregates its students, maintaining "that girls and boys are free to sit where they wish in lessons."
In addition, the Telegraph writes pupils were encouraged to compete in a "Ramadan competition," sparking concern among some teachers who felt the children's health and ability to learn would be harmed by an 18-hour fast.
"Pupils were starving themselves all day at a stressful time and then had an iftar [meal breaking the fast] in the evening in school, with prayers for the exams," a member of staff said to the publication.
Muslims are expected to observe a month-long fast from sunrise until sunset during the festival of Ramadan. Children are not usually required to participate.
Ofsted, the UK's official body for investigating schools, and the Department of Education are currently looking at 18 schools in the Birmingham area that are thought to have been taken over by Muslim hardliners. Birmingham City Council has also launched its own probe into 25 schools.
Ofsted's findings are expected to be published later this month in a report. Director of Birmingham's children's services, Peter Hay, has predicted a "bloody firestorm" when the report emerges and "potential significant structural proposals," reported the Telegraph.
The investigations come in response to allegations of a so-called Trojan horse plot, where Muslim teachers are attempting to gain influence in Birmingham schools and remove staff members who are not sympathetic to their religious beliefs.
RT's Sara Firth spoke to a former teacher at Park View in April who said such practices had been going on in the school for years.
"The local authority knew about it and did nothing. They were prepared to see Park View School become a prison in its own community," said Michael White who was dismissed from the school in 1993.
The National Union of Teachers (NUT) has called for greater sensitivity in the ongoing investigations, amid fears of a possible demonization of the Muslim population of Birmingham. NUT's executive member for Birmingham, Roger King, said that he had heard no such reports of boy-girl segregation in Birmingham schools.
"We've never had any of that kind of concern come to us, and I would have thought that if those things were going on, they would have been brought to us," he said at an annual NUT conference in Brighton in April.
Birmingham is the UK's second largest city, with a population of over 1 million, 22 percent of which is Muslim, according to the 2011 census.