More than pirates 'n' pasties: Cornish get same minority rights as Scots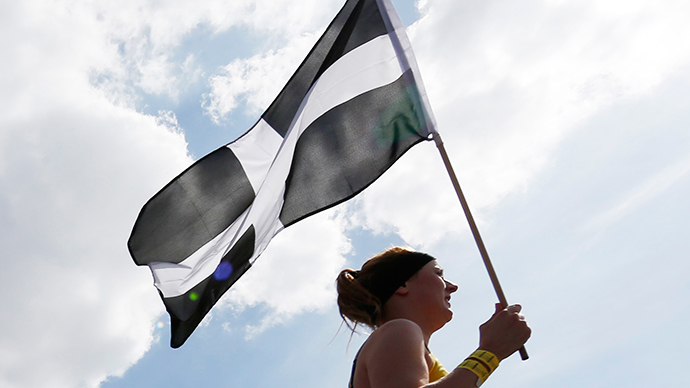 The UK government will announce Thursday that the Cornish, one of the ancient peoples of the British isles who trace their roots back to prehistoric times, will be formally recognized – along with the Scots, Welsh and Irish – as a national minority.
The decision has been taken under a European convention to protect the rights of national minorities and means that they will have the same rights and protections as the UK's more established nationalities: Scotland, Wales and Northern Ireland.
"Cornish people have a proud history and a distinct identity. I am delighted that we have been able to officially recognize this and afford the Cornish people the same status as other minorities in the UK," said Danny Alexander, the Chief Secretary to the Treasury.
It is a millennium since this windswept corner of the British Isles was claimed by the English crown and 15 years since efforts began to have them formally recognized as a people in their own right.
The UK's 2011 census saw 84,000 people declare themselves as Cornish and not English. Cornwall has a population of 560,000 people. In Cornwall's schools, 41 percent of children described themselves as Cornish, compared to 34 percent in 2009.
The Cornish language – which was classified in 2010 by the United Nations as extinct – is also enjoying something of a revival, with 557 people now claiming it as their main language. Deputy Prime Minister Nick Clegg promised a further £120,000 ($200,000) of government funding to help promote and develop the language through projects, such as an online radio station.
There are now dual language street signs all over Cornwall and the first Cornish-language kindergarten opened four years ago.
Thursday's announcement comes after years of lobbying and the submission of two formal reports to Westminster seeking minority status.
There were also concerns that policies affecting Cornwall were being made in London, such as government plans to charge VAT on hot Cornish pasties, dubbed the "pasty tax" in 2012, which went ahead despite protests.
"We are absolutely elated," said Dick Cole, the leader of Mebyon Kernow, the Cornish Nationalist Party. "The fact that Cornish culture, language and identity are now formally a national minority on a par with the Welsh, Scots and Irish is fantastic. We shall savor the moment," he told the Independent.
The Cornish Nationalist Party is seeking to form a Cornish national assembly on the lines of the Scottish Parliament and the Welsh National Assembly, although the British government has no plans to grant permission for this.
It is unclear what Thursday's move by Westminster will mean in practice for the people of Cornwall, which is Britain's poorest region and relies heavily on tourism as its main source of income.
David Penhaligon, the Liberal Democrat MP for the Cornish town of Truro until his death in 1986, famously said about Cornwall: "You need more in an economy than just tourism, ice cream and deckchairs."
Recognition of the Cornish as a distinct people will be welcomed by many, but experts say it may do little to change the state of Cornish roads, high unemployment figures and the cuts to essential public services.
You can share this story on social media: