Catalonia 'likely' to remain in EU after referendum – report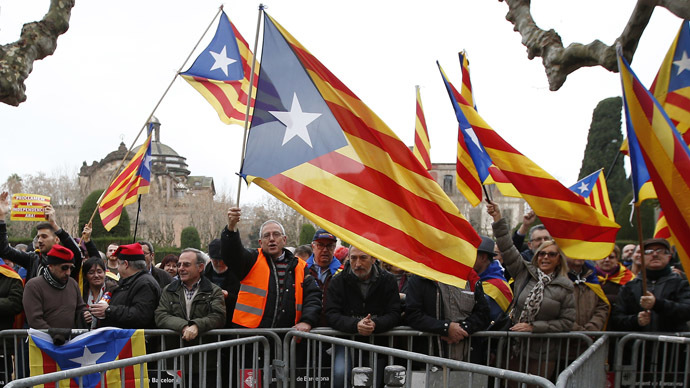 ​It would be "logical" for an independent Catalonia to be accepted into the EU, a pro-independence report has concluded. The EU Commission, however, argues that according to EU treaties an independent Catalonia would be ejected from the 28-nation bloc.
Catalonia's National Transition Advisory Council released a report Tuesday detailing four possible outcomes should the autonomous region vote for independence.
The first and most likely result of the referendum would be the region's automatic integration into the European Union. The second would see the nascent country temporarily isolated from the EU before rapidly re-joining the 28-nation bloc, while the third stipulates that Catalonia would have to apply for membership and join the queue for integration alongside countries like Turkey and Serbia.
The fourth and final scenario says Catalonia would be refused entry into the EU following a referendum for independence.
In spite of Spain's potential veto on a Catalonian referendum, the report says economic arguments will ensure the future of the autonomous region within the European Union.
"The hypothetical veto by the Spanish state could obstruct and delay the incorporation of the new state in the EU, but it would not cause a very significant delay, because the disadvantages for the EU and the other member states of a slow or postponed entry would be much more significant than the meager benefits it might mean for them," the report states.
It adds it would be difficult to imagine Catalonia "as a sort of island, between France and Spain, outside the Union."
Following the release of the report, the EU Commission spoke out against the document's conclusions, maintaining Catalonia will be ejected from the Union if it separates from Spain.
"The Commission's position regarding this issue is established in the Treaties of the European Union which apply to all of the member states: if a region of a member state ceases to be a part of this territory and declares independence, the Treaties no longer apply," said a spokesperson from the Commission.
Since the onset of the economic crisis in Spain, the Catalonian independence movement has been gathering momentum, with over 60 percent of the autonomous region's population approving of a split from Madrid. Catalonia has a population of around 7.5 million, its own language and is responsible for one-fifth of Spanish GDP.
The right-wing government in Madrid has voiced its opposition to Catalonian independence and insists a referendum would violate the Spanish constitution.
The EU has adopted a similar stance toward Catalonia's independence vote as with Scotland's planned referendum on independence later this year. Brussels has pledged to eject the nation if it gets independence from the United Kingdom.
You can share this story on social media: