Up to 60% of Catalonians want independence – poll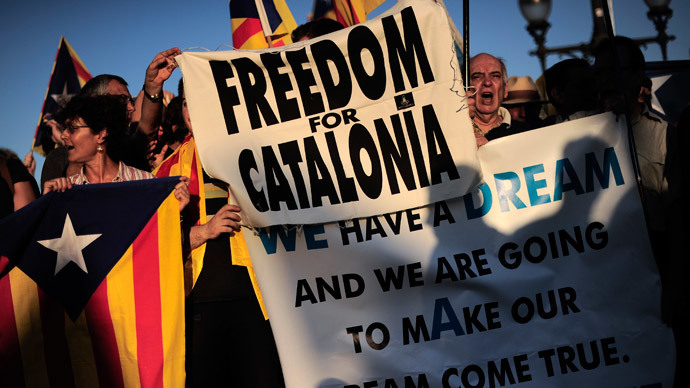 Nearly 59.6 percent of the population of Catalonia desire independence from the rest of Spain and want their region to become a "new state of Europe," according to released poll results.
Over 1,600 people have been polled by the Center for Opinion Studies (CEO), a Catalan government research center. The recently published survey was carried out in mid-December 2013, when the region's political parties were negotiating a possible independence referendum.
Meanwhile, just under 30 percent said they would be "against" or "totally against" seeking an independent Catalonia.
The number of those who want Catalonia's independence has risen compared to the same poll from November 2013, when nearly 55 percent of Catalonia's population voted in favor of the proposal.
In January, Prime Minister Mariano Rajoy declared that there would be no referendum that "puts into question the sovereignty of the Spanish people" and there would be no independence for the Spanish territory while he is president.
Just a month before that the Catalan regional parliament set November 9, 2014 as the referendum date. Catalans will be asked two questions: "Do you want Catalonia to be a state?" and "Do you want that state to be independent?" according to Catalan regional government head, Artur Mas.
Meanwhile, the Spanish authorities have recently announced they will discuss whether to allow Catalonia to hold a referendum or not during an April-8 parliamentary debate.
Catalonia, an autonomous community with a population of 7.5 million, is one of the better-off Spanish regions economically, and is responsible for around one-fifth of the country's GDP and one-quarter of its taxes.
Calls for independence from Spain have gained stronger support in the last few years, as Catalans complain that it is being drained of tax money, which is spent in the country's other regions.
The situation is aggravated by the economic crisis, which is forcing the Spanish government to adopt painful austerity policies.
If agreed, the referendum in Catalonia will be held less than a month after a similar vote in Scotland, which is slated for September 2014.