​UK boosts financial support for 12,000 stricken Yazidis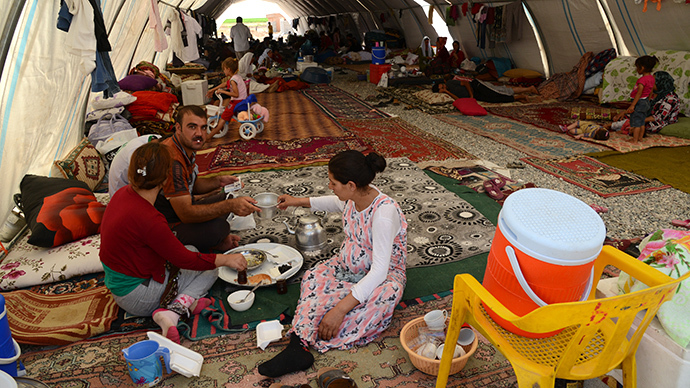 Britain will boost its support for thousands of Yazidi refugees who have escaped from Mount Sinjar and made it to a refugee camp across the Syrian border, International Development Secretary Justine Greening announced.
The Department for International Development will provide funding for the International Rescue Committee (IRC) to provide a month's worth of water and medicine for the refugees.
The UK government also pledged that British funding for other aid agencies working in the Newroz refugee camp will support the distribution of hygiene kits to almost 4,000 men, women and children to reduce the spread of diseases.
Thousands of displaced Iraqis who have been rescued or have escaped from the Sinjar Mountains are crossing into Syria, traveling by foot without access to food or water. Members of the IRC are meeting the refugees en route, distributing to date 90,000 liters of water and 600 jerry cans.
A few weeks ago the Newroz camp in north-eastern Syria was home to just 20 Syrian families displaced by the conflict in their country. But over the past week the IRC has been providing medical care and essential items to 12,000 people, mainly Yazidis, who have fled the mountain escaping IS militants.
A Yazidi woman now living at the Newroz camp said she was living in the Sinjar Mountains for a week before she escaped. Now she works as a volunteer with the IRC in a health tent where she writes medicine prescriptions.
"The people who are coming from the mountains after me are in bad shape," she said. "They are dehydrated and have fevers."
Greening said, "These 12,000 Yazidi refugees have escaped a siege, walked 60km in 50 degree [Celsius] heat and found their way across the Syrian border to a refugee camp that used to house just 20 families."
"They have shown immense courage to make it this far and we are extremely concerned for their wellbeing," Greening added. "By supporting the work of the International Rescue Committee, Britain will provide vital medicine and water to give immediate assistance."
Suzanna Tkalec, the IRC's Country director in Iraq, said, "We are still gravely concerned for the thousands of people still stranded on the Sinjar mountains. Those that have managed to escape are seriously debilitated after having spent days without water and food on temperatures that reach 50 degrees [Celsius]."
You can share this story on social media: