'Disturbing' rise in armed police across Scotland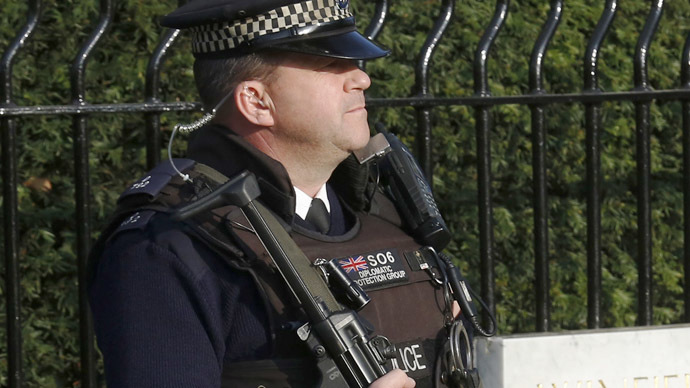 Police on routine patrol throughout Scotland are being given firearms for the first time following the merger of the old eight forces. The move has angered politicians, who felt there should have been a proper debate beforehand.
The arming of police marks a significant change in the UK's policing culture, as previously only officers in Northern Ireland carried guns. In England and Wales, only specialist response and anti-terror police carry lethal firearms, and never on routine patrols.
Scottish politicians (MSPs) have demanded to know whether the decision was publicly endorsed before officers began carrying side weapons, including Glock 17 semi-automatic pistols, while on patrol.
The Scottish Conservatives said the use of armed police was "disturbing", while Scottish Labour accused Justice Secretary Kenny MacAskill of having an "indifferent attitude." The Scottish Liberal Democrats called the justice secretary "deeply illiberal." Petitions opposing the policy have been started by Lib Dem MP Danny Alexander and the Inverness Courier newspaper.
.@policescotland@KennyMacAskill BYOG bring your own gun? We're still waiting for that national debate Kenny

— Derek Douglas (@Derek_Douglas50) August 6, 2014
MacAskill assured Scotland would not slip into a situation where police are routinely armed, claiming that "checks and balances" were built into the system to review all policies surrounding the force.
He was forced to make a statement before the Scottish Parliament because of growing public concern. His critics fear the relationship between the police and public is being irrevocably changed. Of the 17,318 officers in the Scottish force, 275 officers are authorized to carry firearms.
Critics were unconvinced by MacAskill's claim that the firearms policy was first introduced in three of the old police forces, Strathclyde, Tayside and Northern Constabularies, before being rolled out by the new Scotland-wide service after 2013. The areas covered accounted for 60 percent of the Scottish population.
Anyone know if there is a petition going about @policescotland arming themselves with guns? Worrying development, we've never needed them b4

— Tane Piper (@tanepiper) August 6, 2014
MacAskill said the public "understands and accepts the need for a small number" of police officers to be authorized to carry firearms and for the chief constable to have operational independence in their use.
"However, I also understand the concern of the public that we do not slip into a situation where officers become armed as a matter of routine practice which would clearly go beyond the operational into matters of policy, and I want to give the parliament and the public my assurance that this will not happen," he added.
MacAskill said Chief Constable Sir Stephen House agreed to provide quarterly reports to the Scottish Police Authority (SPA) and the Scottish Parliament's justice sub-committee on the number of officers carrying firearms.
That is, Police Scotland have unilaterally decided to put armed officers on patrol & there's no democratic mechanism to challenge this.

— Flying_Rodent (@flying_rodent) August 6, 2014
If the number of armed officers on duty exceeds 2 percent of the force, up from its current 1.6 percent, Sir Stephen will notify the SPA and justice secretary.
"There may, of course, be specific occasions when there is a need to increase numbers on a short-term basis in order to respond to specific risks and threats, and we fully support the chief constable's operational duty to take immediate decisions that reflect any such threats," MacAskill said.
@policescotland Armed by default? What an appalling misuse of force in a move towards a totalitarian, armed state

— Kyle Gordon (@kylegordon) August 6, 2014
Critics have pointed out that firearm offences in 2012/13, including robberies and homicide, had fallen by 32 percent to the lowest for 10 years, reducing the need for armed response units.