Come home to roost: Cameron's 'tough on immigration' PR stunt backfires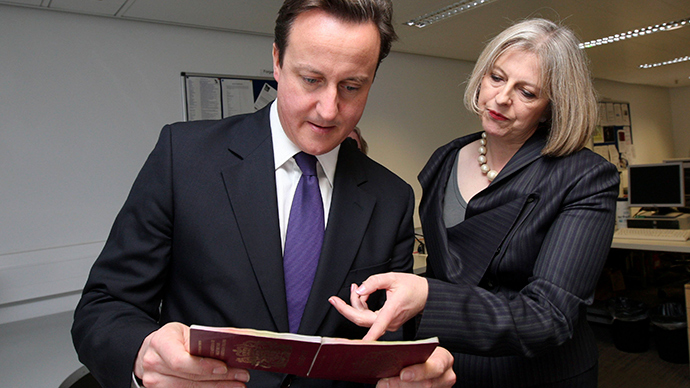 In a botched PR stunt to appear tough on immigration, David Cameron posed for photographs in the home of people arrested for alleged immigration offences, drawing accusations of "bad taste".
Cameron and Home Secretary Theresa May were pictured speaking with immigration officials at the Slough address where four men, thought to be Albanian, were earlier detained.
Following the visit, the prime minister issued a direct warning to illegal immigrants that "we will find you and make sure you are sent back to the country you came from".
Theresa May and I met immigration officers in Slough today after several suspected illegal migrants detained in raid. pic.twitter.com/QqtNP4uVYQ

— David Cameron (@David_Cameron) July 29, 2014
Shami Chakrabarti, the director of human rights group Liberty, called the visit "bad taste and constitutionally inappropriate for elected politicians to intervene in law enforcement".
"Who gave Mr Cameron permission to look round these premises? Being prime minister doesn't give you the right to enter private property willy nilly," she said. "Are we going to see politicians electioneering by taking part in immigration searches?"
Cameron has amplified his rhetoric against immigrants over the past year to win back voters from the Eurosceptic and anti-immigration party UKIP. In a recent policy shift, he announced EU migrants could now only claim benefits for a maximum of three months, down from six.
These legislative changes, which apply to child tax credit, child benefit and job seeker's allowance, will be implemented in November. They follow a swathe of measures to limit migrants' access to NHS treatment, housing and welfare introduced earlier this year.
This is the Prime Minister's latest attempt to deflate heated criticism from right-wing Tory factions about the coalition's failure to hit its own targets on reducing immigration. Labour have dubbed the measures a convenient diversionary tactic cultivated to detract attention from the government's failures on immigration.