Nearly 2 mn young adults in England still live with parents – report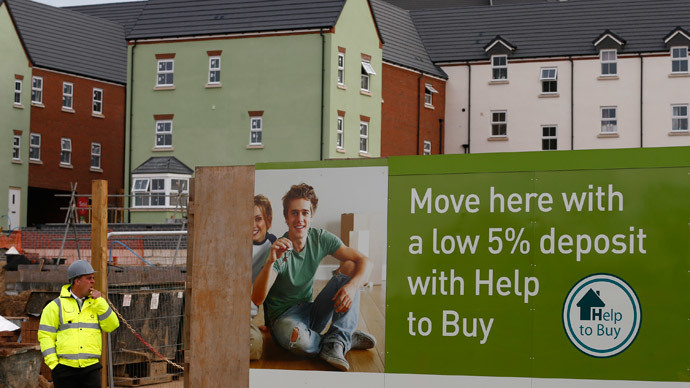 An estimated 1.97 million people aged between 20-34 still live with their parents in England – a quarter being in long-term employment, data collected by the UK's leading housing & homelessness charity Shelter has revealed.
The survey, titled "The Clipped Wings Generation" also found that nearly half of that group lived with their parents not out of choice, but because they can't afford to rent or buy a home.
"The clipped wing generation are finding themselves with no choice but to remain living with mum and dad well into adulthood, as they struggle to find a home of their own" said Campbell Robb, CEO of Shelter.
Suggesting that government housing schemes such as Help to Buy were artificially inflating housing prices across the country, Robb also encouraged the government to invest in affordable accommodation.
The data shows that the areas most affected include Merseyside and the West Midlands, where the economy has only begun to pick up, as well as London's main commuter areas of Hertfordshire and Essex, where average rents exceed £1,000 per month.
The findings follow data released Monday showing that the average cost of rent in London is double that of the rest of the UK, with Londoners seeing rental prices soar by 11.2 percent in just one year.
Excluding London, where average rental costs are nearly £1,500 per calendar month, the UK's average rental rate currently stands at £694 pcm.
In contrast, the cost of renting declined in the North East and Scotland by 2.4 percent and 3.8 percent, respectively.
Hassan, 23, who currently lives with his parents near London, told RT that it would probably take more than a decade to save for a deposit to own an apartment.
"With the property prices in London rising so rapidly, it's unlikely I'll be moving out any time soon, especially as my wages have stayed at the same level for the past three years," he said.
He added: "I've thought about renting but more than half of my take home pay would go into rent alone, excluding bills. It's depressing, but for me and most of my friends, it's actually a lot cheaper to stay at home."
While private renting has generally risen across the UK, home ownership is now at its lowest level since the 1980s, according to official government data. This has coincided with a steep decline in social housing, where 16.8 percent of families now live in council-owned housing, compared to 50 percent three decades ago. However, the government insists that its strategies to boost the housing market have helped people, stating that the Help to Buy scheme has assisted more than 35,000 people get on the property ladder.
Housing Minister Brandon Lewis also said the government's £1 billion Help to Rent scheme would build new homes specifically for rent.
"We're determined to ensure anyone who works hard and wants to get on the property ladder has the help they need to do so," he said.
You can share this story on social media: