Anti-homeless spikes installed in posh London neighborhood spark outrage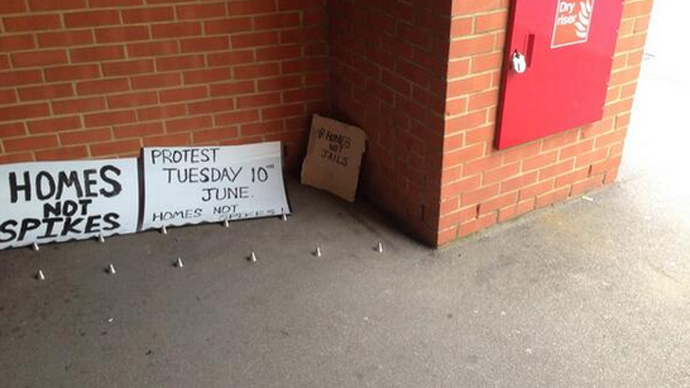 After photos of metal spikes designed to prevent homeless people from sleeping in posh London neighborhoods surfaced online, people have been venting their outrage with controversial invention all over the social media.
Homelessness rife in UK: Research shows millions are paycheck away from losing home
Photographs of metal studs on the doorsteps of a luxury flat building on Southwark Bridge Road in central London spurred an "anti-homeless spikes" hashtag campaign by Ethical Pioneer Twitter page.
As a former Street Sleeper I express my sincere disgust at those who installed this monstrosity! #AntiHomelessSpikespic.twitter.com/BQ9gVEg57p

— TheSchizoPodcaster (@ukschizophrenic) June 7, 2014

An anonymous resident of the residential complex told the Telegraph, that "there was a homeless man asleep there about six weeks ago. 'Then about two weeks ago all of a sudden studs were put up outside. I presume it is to deter homeless people from sleeping there."
However, London resident Nathan FitzPatrick tweeted after talking to locals outside the building that only one person could confirm homeless were sleeping there – and that was a woman and a child.
The only person I'd talked to who said she'd seen anyone sleep there before spikes said it was 2 people, seemed to be 'a woman and child'.

— Nathan FitzPatrick (@tea_dragon) June 7, 2014
Crisis, the UK's national charity for homeless people, immediately issued a statement of condemnation.
More anti homeless spikes....so much for community spirit pic.twitter.com/NOoariaEYd

— Ethical Pioneer (@ethicalpioneer) June 7, 2014
"It is a scandal that anyone should sleep on the streets in 21st century Britain. Yet over the last three years rough sleeping has risen steeply across the country and by a massive 75% in London. Behind these numbers are real people struggling with a lack of housing, cuts to benefits and cuts to homelessness services to help them rebuild their lives," said Katharine Sacks-Jones, head of policy and campaigns at Crisis.
The concept and use of of "anti-homeless floor spikes" absolutely breaks my heart.

— Jack Palmer (@jackpalmer88) June 7, 2014
"They deserve better than to be moved on to the next doorway along the street. We will never tackle rough sleeping with studs in the pavement. Instead we must deal with the causes," Sacks-Jones added.
Local Londoners went to investigate and confirm the installation of spikes on Southwark Bridge Road. What is ironic is that part of the building where metal needles were installed is the office of the British School of Osteopathy – an alternative medicine school focused on healing through moving, stretching and massaging a person's muscles and joints.
Have you seen these #antihomelessspikes@realadamdeacon ? pic.twitter.com/sCsTORMahR

— binta rosa (@balancedpanda) June 7, 2014
Many upset people compared the metal studs to spikes used to stop pigeons landing on buildings.
@AnnaRuggiero81@OwenJones84@ethicalpioneer :-( An inhumane system requires us to dehumanise one another... pic.twitter.com/kXfrLQYdP4

— paulusthewoodgnome (@woodgnomology) June 7, 2014
In response to the Twitter campaign, Shelter, a non-profit organization, is advising people to contact them if they have no place to sleep.
Searching for housing help and advice this weekend? Call our helpline on 0808 800 4444, 8am to 5pm and go online: http://t.co/wDTAa8qmai

— Shelter (@Shelter) June 6, 2014
Some social media users however were justifying the actions, saying that owners of private property have a right to do what they please on their own holdings.
I disagree. If it's on private property owners have every right to use deterrents, if it's causing an issue for them http://t.co/q2MylwxyK3

— Smiffymaid (@smiffymaid) June 9, 2014
You can share this story on social media: