UK commits to major NATO military exercise in Poland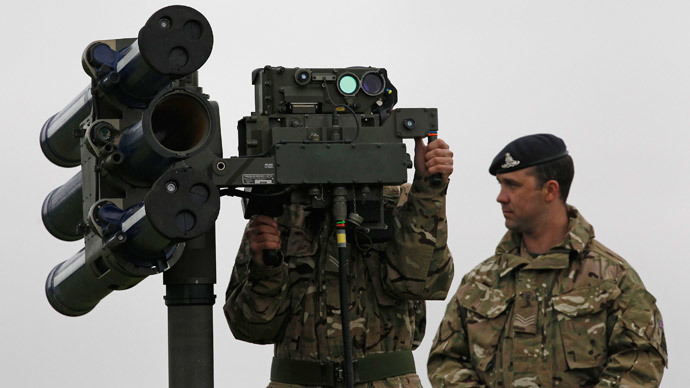 A UK battle group will take part in a major military training exercise with other NATO forces to "reassure" allies in Eastern Europe during a period of heightened regional tensions, the Foreign Office has announced.
In the biggest commitment to the region since 2008, the UK's full battle group will comprise of 1,350 personnel and more than 350 armored and other vehicles.
Speaking during a visit to Warsaw with UK Foreign Secretary Philip Hammond, Defense Secretary Michael Fallon said Exercise Black Eagle was one of a series of planned NATO maneuvers due to take place throughout the autumn in support of its allies in Eastern Europe and the Baltic states.
It is right that #NATO members & partners demonstrate commitment to the collective security of our allies in Eastern Europe- Michael Fallon

— UK Delegation, NATO (@UKNATO) July 29, 2014
"We have a strong opportunity at the NATO summit to discuss how we will continue our response to Russia's illegal annexation of Crimea and its destabilization of eastern Ukraine," Fallon said. "The UK is playing a central role and we are not ruling out further enhancements."
The UK has already deployed RAF Typhoon jets to the NATO Baltic Air Policing mission, as well as participating in smaller scale army exercises across Europe.
Light infantry troops from 1st Battalion, The Duke of Lancaster's Regiment, will also take part in Exercise Sabre Junction at the end of August – a US-led exercise involving 16 NATO and partner nations, which is also taking place in Poland.
UK commits to #Nato exercise to support Eastern European allies during visit to Poland http://t.co/WMP4o4LHb9pic.twitter.com/XZpvwhvEBp

— Ministry of Defence (@DefenceHQ) July 28, 2014
"It is right that NATO members and partners demonstrate our commitment to the collective security of our allies in Eastern Europe," Fallon said.
"In particular, the commitment of a battle group to Exercise Black Eagle shows our sustained and substantial support to NATO's eastern border."
NATO's Europe commander General Philip Breedlove has been advocating a build-up of alliance assets in Europe, particularly Eastern Europe, in the wake of the Ukrainian crisis and the secession of Ukraine's Crimea to Russia.
The alliance has already strengthened its presence in the Baltic Sea and the Black Sea and deployed additional military aircraft in Eastern Europe. It said the moves were needed to boost the confidence of eastern NATO members in the alliance's ability to protect them from "Russian aggression."
Moscow considers the build-up of NATO troops in Europe as part of a hostile policy aimed at moving the alliance's military resources closer to its borders.
"No matter what our Western counterparts tell us, we can see what's going on," President Vladimir Putin told an emergency Security Council meeting in Moscow on July 22. "As it stands, NATO is blatantly building up its forces in Eastern Europe, including the Black Sea and the Baltic Sea areas. Its operational and combat training activities are gaining in scale."
NATO will hold its summit in Wales this September, where member nations will discuss the draw down in Afghanistan and the unfolding crisis in Iraq. Fallon said it would also offer an opportunity to prepare NATO's response to the situation in Ukraine.
You can share this story on social media: