Britain, France deploy 8 fighter jets to Lithuania and Poland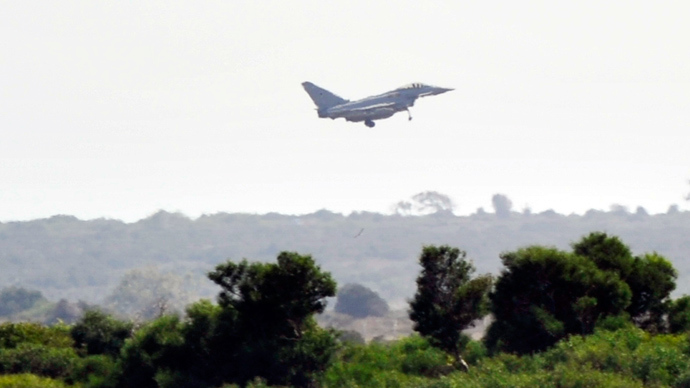 UK and France deployed eight fighter jets to Lithuania and Poland to strengthen NATO air defense over the Baltic regions amid rising tensions in Ukraine, according to officials.
Out of the eight planes, four UK Typhoon jets touched down in Lithuania and another four French Rafale jets landed in Poland's northeast town of Malbork, UK and French defense ministries stated.
The additional jets in the area are to "provide reassurance to our NATO allies in eastern Europe and the Baltic states," British Defense Minister Philip Hammond said.
"In the wake of recent events in Ukraine, it is right that NATO takes steps to reaffirm very publicly its commitment to the collective security of its members," Hammond added.
The Polish city of Malbork has already received 70 French military personnel to support the new planes, according to French military spokesman Colonel Gilles Jaron.
Also on Monday, the US airborne division, which is to take part in NATO exercise 'Spring Storm' in May arrived in Estonia. Around 150 personnel arrived in the military transport aircraft to the Amari airbase, according to the country's defense ministry.
Earlier, UK and France contributed AWACS early-warning aircraft to strengthen the fair defense system over Poland and Romania.
The United States announced last Tuesday that it is deploying 600 airborne troops on exercises in Poland, Latvia, Lithuania and Estonia as a show of solidarity with NATO members that border Russia and have been worried by the escalation of tensions.
In April, NATO said it will be increasing security in the Baltic region in light of escalating crisis in Ukraine. On top of the increasing presence of fighter jets, NATO also sent ships to patrol the Baltic Sea and eastern Mediterranean.
On Monday, Russia's Defense Minister Sergey Shoigu has urged his Pentagon counterpart Chuck Hagel to help cool down the rhetoric over Ukraine and described NATO troops massing near Russian borders as "unprecedented."
Speaking to Hagel by phone on Monday, Shoigu classified the growth of NATO activity in Eastern Europe as "unprecedented," saying it was accompanied by "provocative" rhetoric about "containing" Russia.
The Baltic States gained independence from the USSR in 1991 and joined NATO in 2004 but lack sufficient aircraft to police their own skies, so larger NATO members take turns in patrolling for them.
You can share this story on social media: