Moscow calls US, NATO military buildup near Russian borders 'unprecedented'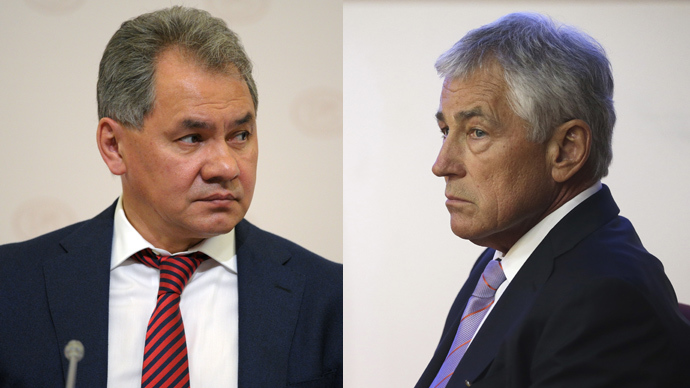 Russia's Defense Minister Sergey Shoigu has urged his Pentagon counterpart Chuck Hagel to help cool down the rhetoric over Ukraine and described NATO troops massing near Russian borders as "unprecedented."
Speaking to Hagel by phone on Monday, Shoigu also denied the accusations that there are Russian agents acting in Ukraine.
"The Russian minister has called for his colleague to help cool down the rhetoric [over Ukraine] as much as possible. He also unequivocally refuted baseless accusations that there are Russian sabotage and spy teams, purportedly destabilizing the situation in the south-east of the country," said a statement from the Russian defense ministry.
Instead, Shoigu classed the growth of NATO activity in Eastern Europe as "unprecedented", saying it was accompanied by "provocative" rhetoric about "containing" Russia.
According to the Russian statement, Hagel expressed "extreme concern" about the situation in Ukraine on behalf of Brussels and Washington, and said that NATO's actions in Europe intend to demonstrate the unity and defensive capability of the alliance, and have "no provocative or expansive aims".
"There is nothing new for Russia in all of this," Hagel, who assumed the role of Secretary of Defense last year, told Shoigu.
The Russian minister defended Moscow's decision to announce military exercises near the Ukrainian border last week.
"As soon as the Ukrainian authorities said that they were not going to use regular troops against unarmed civilians, Russian units were re-stationed in their usual bases," said Shoigu.
Shoigu accused Kiev of deploying more than 15,000 personnel, 80 tanks, 130 armored vehicles, and 60 artillery guns in the east of the country, "under the pretext of 'fighting terrorism'."
On Monday, NATO continued to increase its presence in the Baltic regions as UK and France deployed eight fighter jets to Lithuania and Poland to strengthen NATO air defense amid rising tensions in Ukraine, according to officials.
Out of the eight planes, four UK Typhoon jets touched down in Lithuania and another four French Rafale jets landed in Poland's northeast town of Malbork, UK and French defense ministries stated.
The additional jets in the area are to "provide reassurance to our NATO allies in eastern Europe and the Baltic states," British Defense Minister Philip Hammond said. "In the wake of recent events in Ukraine, it is right that NATO takes steps to reaffirm very publicly its commitment to the collective security of its members," he added.
You can share this story on social media: