Food scare: British health secretary demands urgent inspections of two UK chicken factories
Published time: 25 Jul, 2014 16:05
Edited time: 25 Jul, 2014 21:05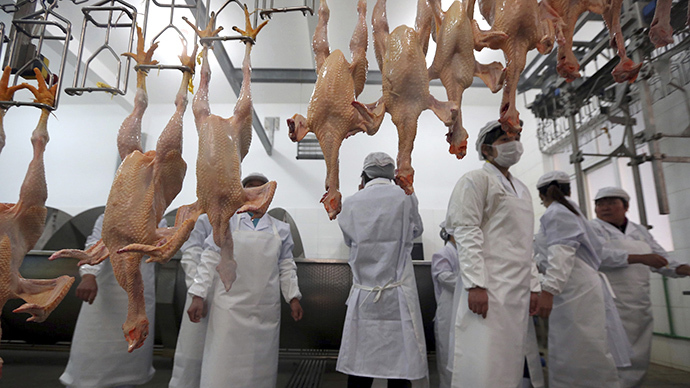 Britain's Health Secretary, Jeremy Hunt, has demanded the Foods Standards Agency (FSA) conduct an urgent inquiry into two UK factories' alleged poor hygiene practices.
The factories are at the heart of a campylobacter scandal that could pose a serious risk to public health.
A body of contentious evidence amassed by Guardian journalists over a five month period has prompted Hunt to request comprehensive audits of the chicken processing factories alleged to have engaged in malpractice.
The evidence - covert footage, photographs, and the testimonies of whistleblowers - revealed an array of unhygienic practices that create a fertile breeding ground for a dangerous and potentially lethal bacteria known as campylobacter.
Allegations specifically concerned 2 Sisters Food Group and Faccenda. 2 Sisters Food Group, which is owned by a pair of sisters, produces both fresh poultry and chicken for a selection of ready meals for supermarkets Tesco, Asda, Sainsbury's, Aldi, M&S, and fast food chain KFC. Faccenda owns several farms and an abattoir that supplies chicken to Nando's restaurants and Asda.
On Thursday, the FSA initially vowed to investigate the evidence against the factories, but subsequently reneged on that promise claiming it was satisfied that alleged hygiene breaches had been dealt with.
Within a matter of hours, however, Jeremy Hunt demanded the FSA investigate the matter thoroughly. The FSA followed with a confirmation it would have officials complete audits on the factories promptly; reviewing CCTV footage of activities within the firms, along with practices and procedures the staff employ.
The FSA claims it doesn't believe the evidence the Guardian uncovered is indicative of a serious risk to public health. But it has resolved to carry out a "full safety audit" into the factories at the center of malpractice allegations nevertheless.
As a means of effectively combating health risks posed by campylobacter contamination, experts propose spraying poultry carcasses with acid after processing, or alternatively flash freezing the produce.
Chris Elliott, Professor of Food Safety at Queens University Belfast, argues rapid chilling of produce is an ideal means of tackling campylobacter.
"I'm very much in favour of the use of rapid chilling methods to reduce the spread of the disease. I see this as not impacting on the quality of the meat but significantly improving its safety", he said on Friday.
Elliott argues the bacteria is an incredibly difficult organism to control.
"The bacteria has proven extremely difficult to control worldwide. Efforts in the UK and elsewhere to improve biosecurity on farms have not proven effective in reducing incidence.Improved processing of food, especially poultry will provide an important means of controlling the disease. However it is important to remember that proper storage of food, proper food preparation and cooking would dramatically reduce the number s of cases each year", he argues.
Professor Elliott cautions Britain's high levels of campylobacter in retail chicken must be urgently addressed. A cross-sectoral approach is crucial, he insists.
"It is very important that control of this disease remains as the number one food safety issue for the industry and government and joint efforts to control the disease are vital."
The opposition Labour party has accused the government of "presiding over another food scandal."
Huw Irranca-Davies, the Shadow Food and Farming Minister, assured on Thursday, "These are serious accusations of malpractice in the poultry slaughter and processing sector. If it is found that consumers have been put at risk we would expect swift and strong action to be taken to restore public confidence, including action against individuals and companies if appropriate."
Davies has written to Catherine Brown, chief executive of the FSA, expressing concern that the body's initial investigation into the scandal lacked depth and scope. Davies has requested the FSA conduct a comprehensive investigation and publish its findings.
The outcome of this "detailed audit" will be publicly announced following its completion, an FSA spokesman told RT on Friday.
Davies also inquired in his letter to the FSA whether the body's failure to publish a quarterly report in which supermarkets and chicken factories would be named and shamed had been influenced by conversations with Downing Street.
But the FSA claimed on Friday "quarterly results cannot be interpreted in a meaningful way, so breaking results down by retailer and processor at this stage could mislead consumers".
Nevertheless following Davies' letter, the FSA confirmed on Friday plans to publish its quarterly results in the next few weeks.
"The FSA is now considering how to revise the survey sampling so that full results can be delivered more quickly. The first quarterly results will be released as planned without company names in the next few weeks", an FSA spokesperson told RT.
While the body's reversal of its decision to publish these results is a positive outcome for consumers, the data will be presented in an opaque form. Given no company names will be made public, questions about transparency remain.
NEW: FSA U-turns over #campylobacter name and shame @foodgov#chickenhttp://t.co/qnduYowOv9

— Meat Trades Journal (@MTJ_tweet) July 25, 2014