Boris Johnson: Naysayers foiling extensive London development plans
Published time: 23 Jul, 2014 14:06
Edited time: 23 Jul, 2014 14:17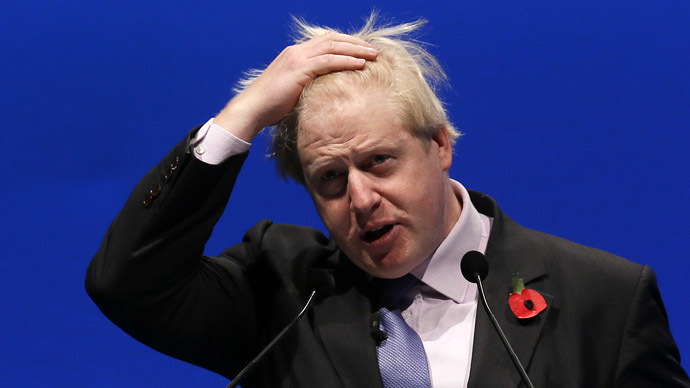 Brigades of "nimbies in disguise" are fabricating false concern for architecture and design in an effort to block development throughout London, Boris Johnson claims.
[Nimby: acronym meaning Not In My Back Yard]
In a scathing appraisal, the Mayor of London accused the city's homeowners of pretending to care about the affordability and design quality of new homes when in fact they were simply opposed to development of any sort.
Mr Johnson holds extensive plans for house-building in London, and hopes to see 45,000 additional homes within the next four years. But his efforts have been dampened by local residents' staunch opposition to new development, he claims.
Johnson is particularly frustrated by significant resistance against a planned development to construct 700 flats adjacent to a Royal Mail office in North London's Mount Pleasant. Those opposed to the scheme argue it's "bland" and many of the flats will be unaffordable.
Irked by this planning dispute, Johnson told the BBC: "Very often in London what you see is people objecting to a scheme purportedly because they say it fails such-and-such an architectural criteria - it's not beautiful enough, or something like that. Or they say there isn't enough affordable housing."
But according to Boris, affordability is an important feature of planned developments. The Mayor of London acknowledged a proliferation of foreign investment in London's heated property market, and cautioned overseas tycoons against treating prime London properties as "bank accounts in the sky."
Johnson believes London's property market is beginning to show "signs of softening." But figures recently published by the National Association of Estate Agents (NAEA) reveal many first-time UK buyers appear to be priced out of the market. "Things are getting even tougher for first time buyers," according to Mark Hayward, Managing Director of the NAEA.
Commenting on many young Britons' inability to afford a home of their own, Paul Higgins, chief executive of the Home Owners Alliance campaign, said: "The door is closed to a generation. Young people feel so disenchanted that they are living in their childhood bedrooms when they are 35."
Johnson emphasizes that many local resident's complaints regarding proposed house-building in London are a disingenuous ruse to halt development of any form.
"You have a coalition of people who pretend to be in favor of such-and-such a thing – better architecture or whatever – and what they want is no building in their area. You've got nimbies in disguise. That is very often the problem", he said.
However, Peter Rees - a former City of London planning officer who spent almost 30 years molding central London's skyline - is sharply critical of such development.
London is effectively being "trashed" by an array of unattractive high-rise towers that are disfiguring the capital's skyline, he claims. The former City of London planning officer also recently warned a "wave" of badly designed residential towers are currently being built for profit.
Rees is a prominent member of the Skyline campaign, a group created by an array of London-based architects to improve the planning and design of London's tall buildings.