'Better than ever': UK's richest own one third of country's wealth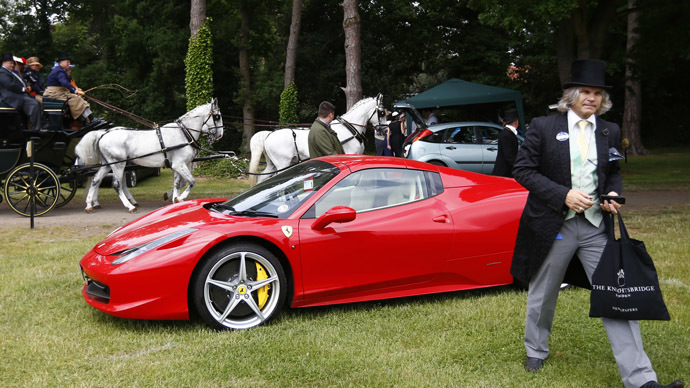 Britain's wealthiest people own a third of the country's GDP, with a combined fortune of $874 billion - an increase of 15.4 percent on last year's total, according to an annual survey.
The Sunday Times Rich List shows that the United Kingdom's richest are richer than ever before, which is in sharp contrast with many ordinary Britons who are struggling after five years of austerity.
"I've never seen such a phenomenal rise in personal wealth as the growth in the fortunes of Britain's 1,000 richest people over the past year," said Philip Beresford, who has compiled the list since 1989.
"The richest people in Britain have never had it so good," he told Reuters. "The challenge now for the government and the rich themselves is to see this wealth percolate downwards and outwards, out of London and towards the North and West of the country."
Russian metals and mining magnate, Alisher Usmanov, who is also a major shareholder in Arsenal football club, has been knocked off top spot on the list, as his fortune fell to $17.9 billion.
The Indian born brothers, Sri and Gopi Hinduja, who have a combined wealth of $20 billion, have replaced him. The pair have made their fortune in a wide range of fields, from banking to oil.
There are now more than 100 billionaires living in the United Kingdom, but there are only three Britons in the top 20 in the country, which includes David and Fredrick Barclay. They are the only self-made billionaires within the group, amassing their fortune through property development and publishing.
The richest Briton, the Duke of Westminster, is ranked 10th with a property-based fortune of $14.2 billion. Queen Elizabeth has added $16.8 million to her personal wealth and is now ranked equal 285th with $555 million.
In the list of the 50 Young Rich, aged 30 and under, 24-year-old 'Harry Potter' star Emma Watson is now worth $50.4 million, which is a ten percent increase from the previous year.
You can share this story on social media: