'British Bulls**t Corporation': Protest in Belfast accuses BBC of 'biased' Gaza coverage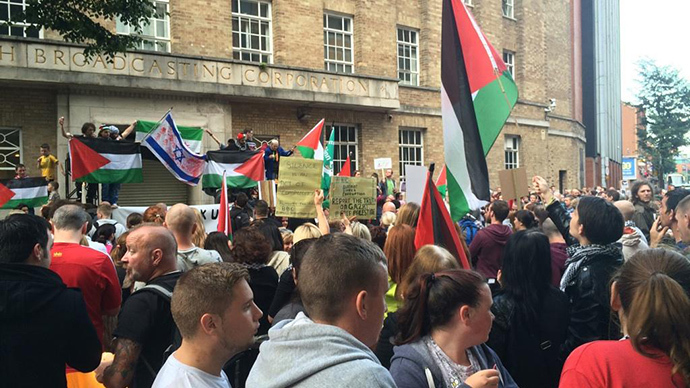 Hundreds of protesters have gathered outside the BBC Broadcasting House in Belfast, expressing their concerns over what they see as "biased" reporting by the BBC on the current Israeli military offensive in Gaza.
At 8pm local time (19:00 GMT), a vigil was held to commemorate the victims of the violence, with the number of the dead currently over 450 people.
Belfast says NO to the Genocide and @bbc bias #FreePalestine. pic.twitter.com/ZK9LYJQlw6

— Charlie Craig (@ladygeekgeek) July 20, 2014
The protesters say that the BBC is pro-Israel in its reports. For instance, they say that the company provides little coverage of Palestinian solidarity protests in the UK.
Banners branded the BBC as "British Bulls**t Corporation" and called Israeli premier Benjamin Netanyahu "Antichrist."
It comes almost a week after several anti-BBC protests took place across the UK: in London, Manchester, Liverpool, and Newcastle. The demonstrators were saying that the corporation is "duty-bound" to provide unbiased coverage.
Over the last week, widespread solidarity rallies have been taking place all over Europe, for example, in Vienna, Paris and London.
This was Belfast tonight - protest at the BBC. @PalestineSocial@Palestinianismpic.twitter.com/YgSAGdFwCL

— CelticChuck5088 (@CelticChuck67) July 20, 2014
More than 70 Palestinians were killed Sunday in the most intense day of fighting in the nearly fortnight-long offensive in Gaza, taking the total number of Palestinians killed to over 400 (AFP reported the numbers spiraling over 450 people).
You can share this story on social media: