Royal Mail rip-off sale cost taxpayers £1bn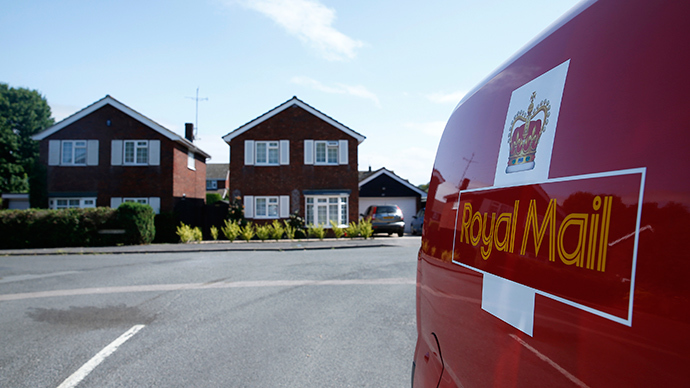 Taxpayers may have lost 1 billion pounds from the undervaluing of Royal Mail shares following October's privatization, said a committee of MPs.
Royal Mail shares were initially priced at 330p, but jumped as high as 618p per share, and now stand at around 473p, allowing investors to make massive profits on the highly unpopular privatization.
Business Secretary Vince Cable defended his department's decision, blaming the rushed and wrongly priced sale on the context of possible strike action by postal workers. He also pointed out that taxpayers had made 2 billion pounds from the deal.
"We sold at a price that was regarded as the best that could be achieved in the context in which we sold it," said Cable.
"The point we have stressed, and I've stressed over and again, that the price of shares is very, very volatile - these things go up and down and we've seen in the last few weeks the price of Royal Mail shares actually falling like a stone."
But in its scathing report the select committee said the shares had been undervalued and property owned by Royal Mail had been mispriced when 60 percent of the company was privatized in October.
Lazard, UBS and Goldman Sachs all had Royal Mail shares allocated to separate parts of their businesses, going on to make millions of pounds on the sale.
Lazard & Co was paid 1.5million pounds for advising the government on the sale. Lazard Asset Management (LAM), which was selected as one of the preferred bidders, made 8.4 million pounds for clients by selling shares shortly after the flotation. LAM itself made a profit of around 40,000 pounds from the share sale.
The Communication Workers Union (CWU), which backed down from strike action to resist the floatation last summer, supported the Business, Innovation and Skills select committee's findings.
General Secretary Billy Hayes agreed that the government had "over-emphasized the risk" to share value posed by potential strike action.
"The BIS select committee's damning report published today shows the extent of the government's incompetence in the privatization of Royal Mail," said Hayes.
"The Committee rightly dismissed the business secretary's assertion that an increase in Royal Mail's share price was 'froth.' The only froth came from Vince Cable and Michael Fallon's allegations that threat of strike action from the CWU last summer affected the share price, which the committee said was 'over-emphasized'.
"Cable's announcement yesterday to review the privatization process of national assets is a cynical attempt at damage limitation. Surely the bodged job the government did on the privatization of Royal Mail is a lesson in itself - leave the family silver where it is instead of pawning it off."
Both the National Audit Office's report earlier this year and the BIS select committee report stated that shares were grossly undersold, losing taxpayers hundreds of millions of pounds.
You can share this story on social media: