Anti-Muslim trolling 'rampant' on UK Twitter – report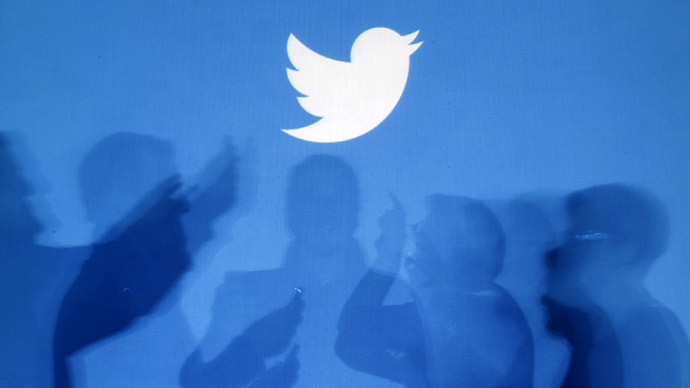 The UK government must to do more to mitigate "rampant" anti-Islam abuse suffered by Muslims, says a report. It documents a rise in online Islamophobic sentiment after the murder of UK soldier Lee Rigby at the hands of Muslim extremists in 2013.
Imran Awan, a senior lecturer in criminology at Birmingham City University, has documented an increase in online anti-Islam trolling in a
report
titled,
"A Typology of Online Hate against Muslims on Social Media."
Awan examined tweets using the hashtags #Woolwich, #Muslim and #Islam written between January 2013 and April 2014 with the aim of finding out whether the murder of 25-year-old Fusilier Drummer Lee Rigby in Woolwich on 22 May had sparked an increase in online hate speech.
"As somebody who had joined Twitter myself, I was shocked at the level of abuse I was getting," Awan told Wired. "I write for the Huffington Post and the Guardian, and I get a lot of strong comments and harassment. I researched and talked a lot about Islamophobia, but it seemed nobody had tested it in the online world."
Awan located the 100 "most Islamophobic" Twitter accounts and dissected 500 tweets. From this data, it was calculated that around 72 percent of the Islamophobic tweets were posted by UK males.
Awan recorded that the most common phrases used to deride Muslims on the social media platform were "paedos," "terrorists" and "scum." He said some of the tweets seemed to stem from reports of grooming rings in the North of England thought to be of Asian origin. However, when looking at the bigger picture, Awan said most of the tweets were simply aimed at creating hostility.
As Awan went through the tweets, he began to notice various patterns and identified eight categories which he named the "eight faces of hate."
In light of his findings, Awan believes that the UK government and authorities should take immediate action in addressing the rise in cyber-hatred. He says that Muslims should not have to suffer merely for engaging in online debates and using social media.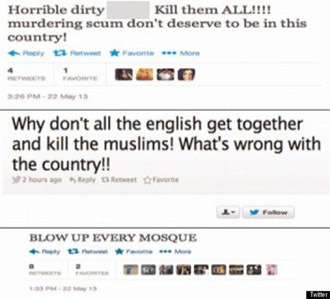 "I see the dangers as being a lot worse. Right now government looks at offline behavior – in the online world in some cases the police are probably slightly afraid. They probably feel it's a gray area, but it's under the Malicious Communications Act," he said.
Britain saw a significant increase in anti-Muslim attacks following the murder of Rigby in Woolwich in May of last year. Lee Rigby was off duty when he was attacked by two men who hacked him to death using knives and a cleaver. His attackers were apprehended by police at the scene of the crime after a shootout. The assailants were later identified as Michael Adebolajo and Michael Adebowale, British citizens of Nigerian descent who had been raised as Christians but had converted to Islam and become radicalized.
You can share this story on social media: