Thousands of Indian Muslims volunteer to protect holy shrines in Iraq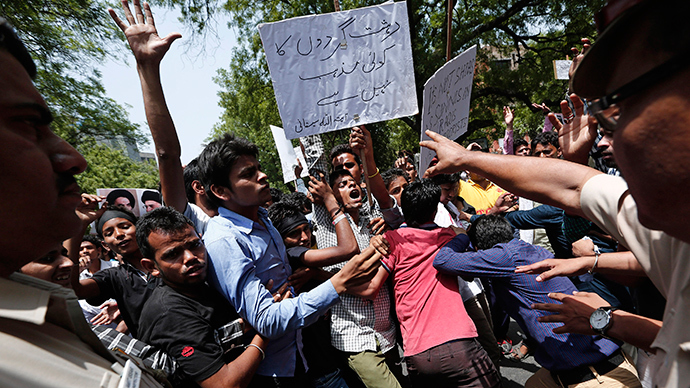 Thousands of Shia Muslims in India have volunteered to go to Iraq to protect Shia holy shrines and provide humanitarian aid as radical Sunni militants have captured a major part of the country in their rampage towards Baghdad, killing at least 1,300.
READ MORE: UK, Aussie jihadists call to join ISIS militants in Iraq, Syria
Amid the spreading insurgency in Iraq, where the Islamic State in Iraq and the Levant (ISIS, ISIL) terrorists are pushing government forces from cities and towns, Indian Muslims spearheaded by a religious organization are recruiting volunteers pledging to protect Shia holy shrines in the country.

Over 20,000 people – ranging from engineers to students and police officers – have already signed up for the task and filled out documents for visas to Iraq, said Hasan Haider, an executive member of the Shia NGO Anjuman E. Haideri, as cited by The Times of India on Thursday. According to a report by The India Express on Wednesday more than 100,000 people have registered at the NGO to travel to Iraq.

The organizers have stated that their aim is not to respond with violence, but to provide relief and medical aid, as well as to protect their holy sites.

"We could travel to Iraq to form a human chain to save people from being tortured. We could fetch water and donate blood and do anything to save our shrines," said Syed Bilal Hussain Abidi, a senior member of the group as quoted by Reuters.

Haider said that the group will not participate in fighting. "We will not respond to terror with terror," he told local media.

The Indian Muslims have also denounced ISIS (ISIL) terrorists saying that their mission is not sectarian but against terrorists.

"They aren't Muslims. Jihad means to defend. Jihad doesn't mean to kill," said Syed Bilal Hussain Abid.

The group have prepared signs reading: "It's not Shias vs Sunnis (it's) Iraqis vs Terrorists".

The leaders of the Shia NGO are reportedly planning to march to the Iraqi embassy in New Delhi on Friday to deliver the forms. However, it is not clear whether the volunteers will be granted visas, as India's foreign ministry has said it will not allow its citizens to go to Iraq for security reasons.

The registrations began following a protest held in Delhi last week condemning terrorism in Iraq, local media reported. The protest was organized by Shia groups and attended by more than 400 Shia Muslims from Delhi, Aligarh, Punjab and neighboring areas. They were joined by prominent Sunnis who voiced their solidarity in declaring the ISIS an un-Islamic terrorist organization.

Islam is the second largest religion in India, making up about 15 percent of the country's population, with about 177 million worshippers.

ISIS militants' advances are not showing any sign of abating as they have laid siege to half of Iraq on their way to the capital Baghdad. The militants have also vowed to march and capture the holy Shia sites of Najaf and Karbala south of Baghdad.

Najaf is considered to be the center of Shia political power in Iraq and the third holiest city of Shia Islam. Karbala is amongst the holiest cities for Shia Muslims alongside Mecca and Medina, while millions of worshipers from around the world visit annually to remember the martyrdom of Imam Hussein.
You can share this story on social media: