'Slave labor?' UK benefits legislation violates human rights, High Court rules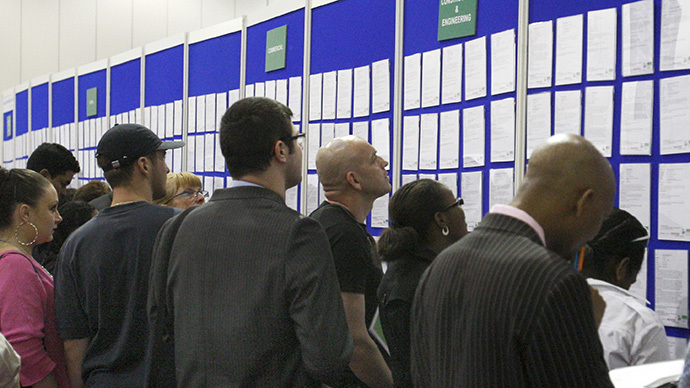 Britain's High Court has ruled against legislation supporting a back-to-work scheme that forced people to work for free to qualify for benefits. The decision could lead to the UK government paying out over $223 million to people denied welfare payments.
Justice Beverly Lang ruled Friday that emergency laws, brought in last year to galvanize the coalition government's back-to-work schemes, were "incompatible" with the European Convention on Human Rights. According to the judge, the legislation interferes with an individual's right to a fair trial when applied retrospectively.
The ruling could open the door to a torrent of claimants from people who were denied benefit payments because they did not participate in the scheme. Birmingham-based public interest lawyer Phil Shiner, who fought against the scheme, told the Birmingham Mail that the ruling was a "massive blow" to the government's "attempts to make poor people on benefits work for companies, who already make massive profits, for free."
The controversial legislation was introduced by the UK government last year to bolster the back-to-work-scheme, dubbed "slave labor" by the opposition. The scheme obliges those who are out of work to participate in "mandatory work activity" in order to qualify for government benefits.
However, the initiative forced some people to work for free in order to qualify for their benefits. Cait Reilly, 24, issued a legal challenge to the scheme, claiming it violated her human rights. She says she was forced to quit a voluntary job at a museum in Birmingham to work for free in budget store Poundland to qualify for benefits.
The Supreme Court ruled in Reilly's favor, stating that the back-to-work scheme was flawed as Reilly had not been properly notified of the scheme or its undertakings. However, the court said the program stopped short of calling it slave labor, as it did not force people into work.
Pandora's box
In response to Reilly's victory last year, the government introduced the emergency laws to support the scheme. The amendments, which came into force in March 2013, allowed the scheme to continue functioning and blocked any claims for benefits that were denied.
Opponents of the back-to-work scheme say that the latest ruling could force the government to shell out up to 130 million pounds ($223 million) in retrospective benefit claims.
Representatives from the Department for Work and Pensions which implemented the scheme said they were disappointed by the ruling and would appeal.
"We disagree with the judgment on the legislation and are disappointed," a spokeswoman told the BBC. "This applies to only a minority of past cases and does not affect the day-to-day business of our Jobcentres. We think this is an important point and will appeal."
She insisted the scheme would remain in place and no compensation payments would be made, despite the High Court ruling.
You can share this story on social media: