Know your weed by smell: UK police want public to sniff out cannabis farms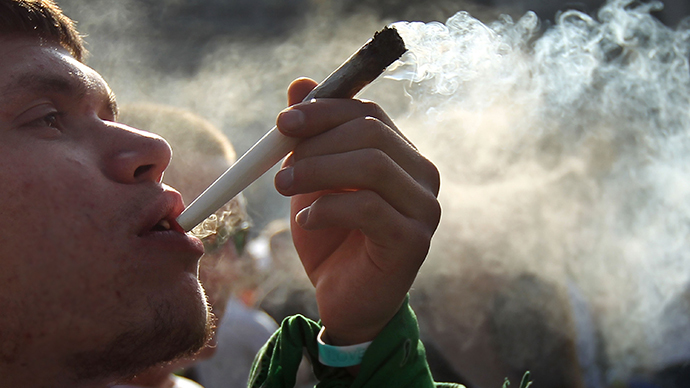 British police are handing out "scratch and sniff" cannabis cards to inform the public of the smell of illegal weed farms. While some have been busy sniffing out their neighbors, dozens of UK celebrities have spoken out against the rampant "war on drugs."
Police forces in England and Wales have been distributing A5-sized cards that emit the smell of growing cannabis when rubbed, urging people to report on similar suspicious smells in their neighborhood, UK media reports.
The educational campaign targets illegal growing hotspots and is said to be part of a publicity drive against drugs that was launched last spring.
This "scratch and sniff cannabis" card doesn't even smell like the stuff you smell down the park #PoliceFailhttp://t.co/E1hBg6I7Ra

— Sabrone IX (@sabdotzed) March 30, 2013
Campaign posters are also warning the public that cannabis is not a "harmless drug," but instead is a magnet for organized crime gangs that "bring crime, violence and intimidation into your area."
Police now want the public to be instrumental in their fight against drugs, according to the national police lead for Cannabis, Chief Superintendent Bill Jephson.
"Ordinary people who come forward and share their concerns will be our best source of information. The campaign explains the tell-tale signs that a cannabis farm exists and how people can ensure the information they have gets to the police in confidence. I would urge everyone to act as our eyes and ears or, in this case, our noses to sniff out the criminals," Jephson was quoted as saying by the Mirror.
According to UK law enforcement, human trafficking and energy theft are also centered around cannabis growing. In 2012, around one-fifth of human trafficking victims in the UK – most of them children – were forcefully involved in growing cannabis, according to the UK Human Trafficking Centre. Around one-third of all stolen energy in the country last summer was related to cannabis farms, UK energy watchdog OFGEM said.
#supportdontpunish action in London right now! #endthedrugwar2016pic.twitter.com/NnW7xZ36Ty

— Ann Fordham (@AnnFordham) June 26, 2014
'Support, don't punish'
Critics of Britain's war on drugs and similar campaigns in other countries, however, believe that harsh anti-drug laws and police action do not necessarily serve the public's interest, and that a different approach to those possessing and using drugs should be used.
On Thursday, more than 90 UK celebrities, politicians, lawyers, and health experts signed a letter to British Prime Minister David Cameron, calling to reform the policy on illegal drugs and decriminalize drug possession. British singer Sting, comedian Russell Brand, and business tycoon Richard Branson are among the letter's signatories.
According to the drug charity Release, which drafted the letter, the current policy has led to the "unnecessary criminalisation" of more than 1.5 million people in the UK in the last 15 years. Instead, the problem should be fixed by giving advice and medical support to drug users, the letter says, citing evidence from Australia, the Czech Republic, and Portugal.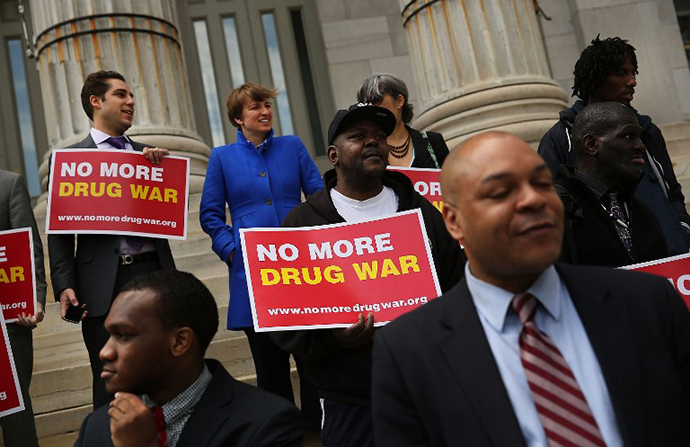 The move came as part of a global day of action under the slogan 'Support. Don't Punish,' in which protests against the "war on drugs" took place in around 100 world cities.
"The 'Support. Don't Punish' campaign calls for an end to the expensive and counter-productive war on drugs, and promotes more effective and humane approaches based on public health and human rights," the campaign said.
The protests took place in various forms across the globe, including public gatherings, street art, dance displays, music concerts, public meetings, workshops, boat shows, social media campaigns, and advertisements on public transportation and billboards.
Large gatherings were reported in New York, London, Paris, Warsaw, Mexico City, Kathmandu, Rome, Phnom Penh, Tbilisi, Kuala Lumpur, and Moscow.
In New York, activists gathered in front of the UN headquarters, carrying signs stating 'No more drug war.'
You can share this story on social media: