New pot delivery phone app as easy as ordering a pizza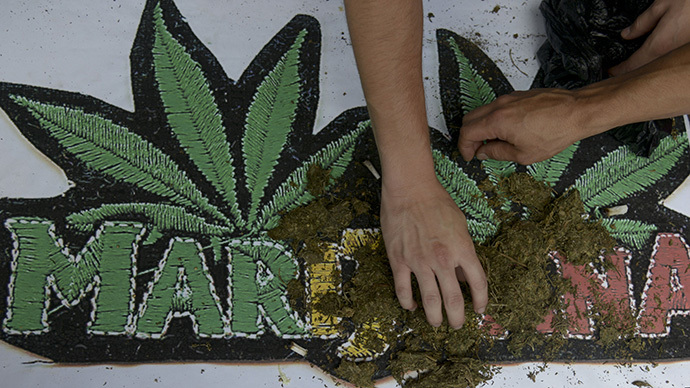 Two enterprising University of Washington students have created a new phone app that lets people order marijuana delivery the same way they would call for a pizza.
"We're delivering green to make green!" Seattle college students and Canary app creators Josiah Tullis and Megh Vakharia told potential investors at a startup conference sponsored by TechCrunch, according to the Daily Mail. "They all seemed to like that."
Canary is a smartphone application that will allow medical marijuana cardholders in Seattle and Denver to order different strains of cannabis from dispensaries and producers the company has partnered with. The amount a customer can order (in ounces or grams) depends on the state law, the app's website says.
"The easiest way we say it, is that it's Uber for marijuana," Tullis said to KIRO-TV.
"Canary is an on-demand service that allows you to get cannabis delivered right to your doorstep," Vakharia elaborated.
Legal cannabis users sign up and scan their medical marijuana IDs, which the company then verifies.
"We check. We do some double verification that is required of medical marijuana patients. They have to take a picture of the card and also present it upon arrival," Vakharia said to KIRO.
Once the customer is verified, they are able to order from the companies that partner with Canary, who serves as a middleman between consumer and store. The company then sends out a courier - who must also have a medical marijuana card - who brings the order to the customer. The company charges an extra 10 to 25 percent on top of the cost of the pot, and gives a cut to the courier.
"Because the exchange of money (the point of sale) happens at the brick-and-mortar dispensary, Canary complies with the current I-502 rules and regulations [in Washington]," Tullis, a sophomore studying design, explained to Geekwire.
The two 19-year-old Washington Huskies plan to launch the app in July, which is the same time that the state is set to open recreational marijuana retail stores, allowing anyone over the age of 21 to buy pot. Delivery will be available 24/7 once the app launches, but the pair are taking their time to ensure that Canary operates legally first, Geekwire reported.
"The uncertainties are not in the technology, the technology has already been done before. The uncertainties are in the legality, on the business side," Tullis said to KIRO. He and his partner hope that they can serve the recreational population when it becomes legal.
Legality isn't their only concern, though. Their parents took some convincing as well, the Canary entrepreneurs told KIRO.
"My mom called me and went, 'Wait, what are you up to?' I said, 'We're starting this business!'" said Vakharia. "(My mother's) main guideline is, 'Go ahead and pursue this business, just don't partake in what you're delivering,' and I was like, 'OK, OK, mom!'"
In the meantime, they're still looking for investors.
At the TechCrunch conference, Tullis and Vakharia won the personal choice award. "They had virtually connected two rising volatile components of our world (legal weed in WA and on-demand providers) and lights went on, mentos hit diet coke, and POOF! - Canary is among us," the Examiner wrote.
Canary is also looking for drivers. They've poached some from car services like Uber and Lyft already. All drivers have to undergo background checks as well as having their medical marijuana cards.
And if you get the munchies, well, Canary has you covered there too. "Our catalog includes popular food and drink items to satisfy your insatiable appetite," the site says. "Yeah, we've thought of everything."
You can share this story on social media: