​US eases rules for banks to do business with licensed pot shops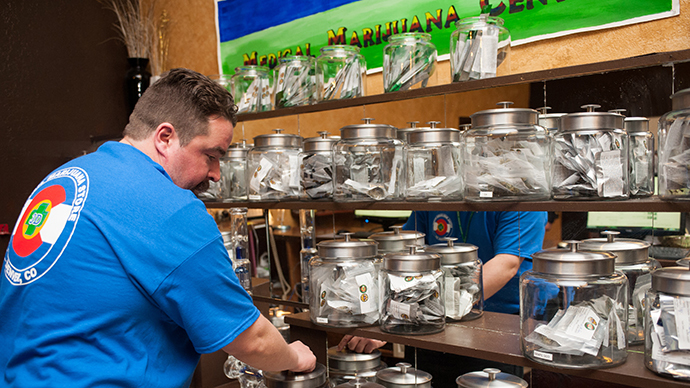 The Obama administration released on Friday new rules that aim to ease relationships between banks and legal marijuana shops. Banks have been reluctant to allow pot businesses to open accounts given the contradictions between federal and state laws.
The new guidelines created by the US Department of Justice and the Treasury Department's Financial Crimes Enforcement Network (FinCEN) signal to banks they can evade the federal government's wrath as long as the marijuana businesses they are transacting with are following state law and have filed the proper paperwork.
"The Department shares the concerns of public officials and law enforcement about the public safety risks associated with businesses that handle significant amounts of cash," Justice Dept. spokeswoman Allison Price said in a statement. "These guidelines, together with the Treasury Department's guidance to financial institutions, are intended to increase the availability of financial services for marijuana businesses — that are licensed and regulated — while at the same time preserving and enhancing important law enforcement tools."
Though several states have legalized medical marijuana, it wasn't until Colorado and Washington state passed laws in the last year allowing broader sales of pot that pushed the need for new banking rules. High-profile burglaries of shops in Colorado - the first and only state that has permitted retail outlets to legally sell marijuana to adults for recreational purpose – have occurred in the last month. The shops are targeted based on their necessity to carry cash on hand, given the lack of assurance on the part of banks and credit unions that doing business with marijuana outlets wouldn't conjure the ire of federal law enforcement.
"There's a public safety component to this. Huge amounts of cash, substantial amounts of cash just kind of lying around with no place for it to be appropriately deposited, is something that would worry me just from a law enforcement perspective," US Attorney General Eric Holder said on Jan. 23 during a speech at the University of Virginia.
Friday's announcement is intended to open up banking services – accepting deposits, offering payroll checks, easing the acceptance of credit cards - for pot shops licensed with a state to sell either medicinal or recreational marijuana.
"Now that some states have elected to legalize and regulate the marijuana trade, FinCEN seeks to move from the shadows the historically covert financial operations of marijuana businesses," FinCEN Director Jennifer Shasky Calvery said in a statement. FinCen's mission is mostly concerned with anti-money laundering laws and keeping banks from serving as fronts for criminal groups.
Yet, according to Politico, the memos issued Friday are sparse in solid details, likely because the Obama administration, in working with states that have legalized pot, has been accused of ignoring the illegality of marijuana use on the federal level.
Nevertheless, the directive tells prosecutors in states where marijuana is legal that they should focus on eight areas of law enforcement pertaining to pot businesses, including drug sales to minors, using a business as a front to sell other illegal drugs or working with drug gangs or cartels.
Banks must verify with their state whether a marijuana business is licensed. Banks also must follow the businesses closely and report suspicious activity to federal authorities in order to stay clear of violating anti-money laundering laws, FinCen said. The federal agency said banks must be aware of whether the stores are making more money than expected from selling marijuana.
The Justice Dept. and FinCen said the new rules do not grant any activity immunity from prosecution, again highlighting the delicate nature of marijuana legalization for federal agencies.
The guidelines are mostly aimed at smaller banks rather than large national banks, which are unlikely to associate with pot outlets anytime soon.
"Through our outreach we were led to believe that there would be perhaps some banks that would be willing to offer these services and probably some of the smaller, medium banks rather than some of the largest ones in this country," a senior FinCEN official said.
Despite the new directive, banks and their lobbying groups are working on a bill in Congress that would ensure further protection from running afoul of anti-money laundering laws.
You can share this story on social media: