'Ku Klux Klan-like' England World Cup hoodie slammed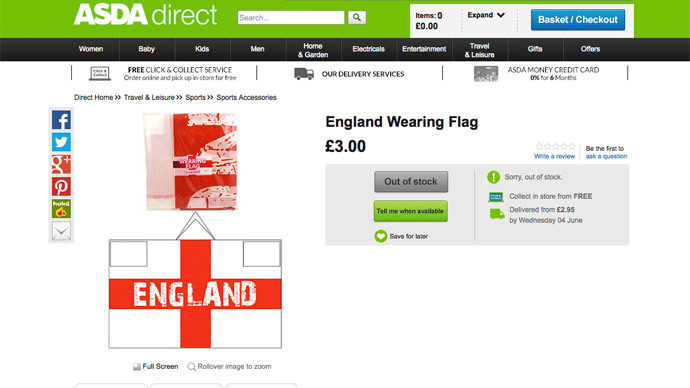 A UK supermarket's wearable England World Cup flag promotion provoked a storm across social media on Friday after the peaked white hood – supposedly designed to protect the wearer from rain – reminded many of the racist Ku Klux Klan.
One Twitter user named Kieran uploaded a picture of himself with the caption "Asda [supermarket] are selling wearable England flags, they look dodgy to say the least..."
Asda are selling wearable England flags, they look dodgy to say the least... pic.twitter.com/cGBsSdQyP9

— Kieran (@KieranCPhoto) May 29, 2014

Another user described the flag as "klantastic."

The white supremacist Ku Klux Klan group is renowned for its violently aggressive stance against racial equality, as well as for burning crosses and carrying out horrific lynchings in the past.
ASDA, I can't even pretend that your England flag 'with hood' doesn't scream KKK.

— Nicole Cobb (@littlelegogirl) May 30, 2014

The St. George's Cross with the word 'ENGLAND' emblazoned across it is available on the ASDA supermarket website for three pounds ($5). Its description simply states: "Support England in the world cup with this unique wearing flag!"

A spokeswoman for the supermarket chain responded to the outrage.
"We know there's chatter on Twitter about our wearable World Cup flags, but it's simply a flag with a hood - nothing more, nothing less," she said in a statement.

"We want customers to get behind the team without getting wet."
The UK's right-wing English Defence League (EDL)was also a point of reference.
Yep, I reckon a good number of EDL types would be happy with this design next time they march on a rainy day. @Staircase2@uaf@asda

— Vivid Ricky (@VividRicky) May 30, 2014
Last September the supermarket was made to donate 25,000 pounds ($42,000) to mental health charity Mind after selling a "mental patient fancy dress costume."
What is it with Asda and their insensitive costumes? First the "mental patient" Halloween costume, now a KKKesque football outfit

— Callum Shannon (@callum_shannon) May 30, 2014
You can share this story on social media: