Police clash with ultraconservative anti-Islamist demo in UK, arrest 28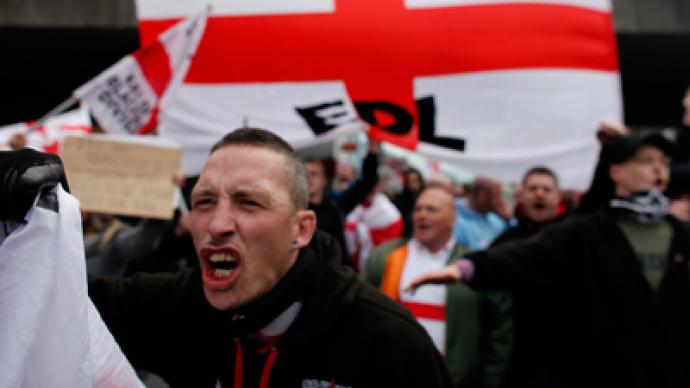 British police have dispersed a crowd of 1,000 and arrested 28 supporters of the far-right English Defense League who were protesting against "militant Islam" in Walsall, England. The peaceful demo turned violent as aggressive members attacked the police.
The supporters of the ultraconservative street protest movement were carrying banners saying 'No More Muslim Grooming Gangs' and 'Our Walsall is in Britain Not Pakistan or Bangladesh.'Leicester Street, where the demonstration started in the afternoon, was cleared up two hours later. The protest was peaceful until a small number of people became aggressive during speeches given by EDL leaders, with the crowd rushing towards police lines deployed on Leicester Street.After the first arrests, the brawl between the security forces and protesters flared up. The disorder lasted for about 10 minutes.  Officers with riot gear used batons and shields to hold back the demonstrators, some of which were throwing bricks, bottles and litter bins at police. Members of the EDL were eventually forced back onto buses to stop further clashes. In a statement published on September 27 on the EDL's website, the rally organizers explained what drove them into the streets of Walsall. The UK's "Muslim-dominated" inner-city areas are becoming dangerous for non-Muslims, they claim."It is a pattern that has been witnessed all over the UK. It is a pattern that is being repeated in Walsall," they explained, saying they would not protest "about Muslims or even Muslim violence," but about the ideology of Islam and "Islamists who take any criticism of Islam as evidence that they are being victimized."Meanwhile, the far-left Unite Against Fascism (UAF) simultaneously held a protest in Gallery Square, in front of the New Art Gallery. No violations and arrests were made.
You can share this story on social media: