Ustyugov breaks Russian biathletes' misfortune in Vancouver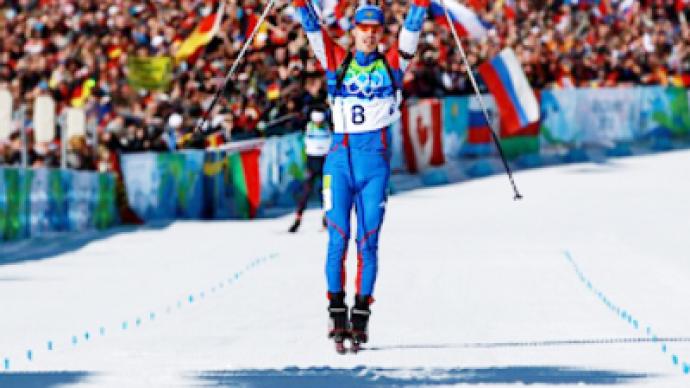 Biathlete Evgeny Ustyugov has claimed Russia's second gold in Vancouver after winning the men's 15 kilometer mass start.
Going into the men's mass start three athletes were regarded as the biggest favorites, including Norwegian Ole-Einar Bjoerndalen, the defending World Champion and World Cup number 1 this season; his teammate Emil Svendsen, who had already won the individual race in Vancouver, and another top-tier biathlete, Evgeny Ustyugov, who had been slow to get in gear but was hungry in the mass start after a disappointing fourth-place finish in the individual.
Bjoerndalen was the first to lose out on Sunday, as the Norwegian missed three times in the first shooting. Svendsen was among the leaders until his miss in the third shooting.
Ustyugov, meanwhile, hit a perfect 20 of 20 targets, and skied strong out of the final shooting stage to win the men's 15 kilometer mass start in a time of 35:35.7. Ustyugov's gold is only the first medal for Russian biathletes in Vancouver.
Another Russian, Ivan Cherezov, finished in 6th place, having amassed two penalties.

After a pair of top 10 finishes in Vancouver, Slovakia's Pavol Hurajt finally broke through to win the bronze medal. Martin Fourcade, brother of World Cup leader Simon, earned the silver.
Zaitseva claims silver
Russia's Olga Zaitseva and Olga Medvedsteva were too close to winning yet another gold for Russia in biathlon on Sunday but could only finish second and fourth in the women's event.
Germany's Magdalena Neuner came from behind to win gold. Neuner, who's already won a silver and a gold, shot well in the fourth and final stage to slip past Russia's Olga Medvedsteva who had, until then, been leading the field with no missed shots.
Russia's Olga Zaitseva took silver with one miss while Neuner's teammate, Simone Hauswald, finished with bronze.

You can share this story on social media: