Russian women grab season's first biathlon gold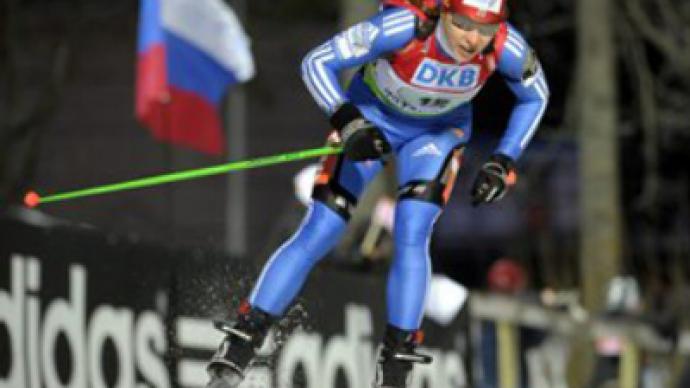 Russia edged France by 3.8 seconds on Sunday to win the women's biathlon World Cup six kilometer relay race. The victory is Russia's first of the season.
The Russian team composed of Svetlana Sleptsova, Anna Bulygina, Iana Romanova and Olga Zaitseva who had six shooting misses but avoided a penalty lap. And together with good speed and shooting accuracy, the quartet finished first in Hochfilzen, Austria.
France trailed by 3.8 seconds in second place with seven reloaders, while World Cup leader Helena Jonsson anchored Sweden to third place, 4.6 seconds behind Russia.
Team Germany, which won last week's season-opening relay race in Ostersund, Sweden, finished 19.5 seconds back in fourth.
Russians are now top of the relay standings with 114 points. Germany is next with 103, one more than France.

Meanwhile, in the men's event Ivan Cherezov, Evgeny Ustyugov, Nikolay Kruglov and Maxim Chudov failed to repeat their teammates' success. They came in second despite a penalty lap which let hosts Austria ahead. Germany finished in third for the country's first podium finish of the season.
You can share this story on social media: