Extra win earns biathlon World Cup for Jonsson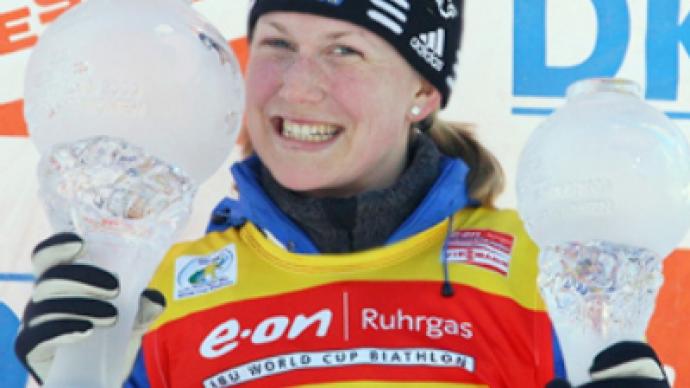 Sweden's Helena Jonsson has secured the overall biathlon World Cup 2008/09 title after finishing second in the last race of the season – the 12.5 km Mass Start – in Khanty-Mansiysk, Russia.
ati Wilhelm, who lead the overall standings before the event, came in 6th place. The German missed two targets during the final standing shoot, while Jonsson kept cool and had four clean shoots during the race.
The result allowed the Swede to catch up with Wilhelm in the table. Both athletes had 925 points, but Helena Jonsson claimed the Crystal Globe because she had one victory more to her credit.
"I already said it before the race: Helena will shoot clean today. She was the lucky one today. Both have the same amount of points, that's crazy. This must be the first time, so close together," Wolfgang Pichler, Jonsson's coach, said to to International Biathlon Union website.
German Simone Hauswald, who finished the season 9th, was the winner of the race, and her compatriot, Andrea Henkel, came in third.
King of Biathlon remains on the throne
Ole Einar Björndalen was awarded his 7th Crystal Globe, after coming to the finish in third place, in the Khanty-Mansiysk.
The Norwegian legend has earned 1080 points this season, while his closest rival, Tomasz Sikora, had just 870.
"I do not keep these awards out. I pack them away. They are at my father's house. I want to stay hungry," Ole Einar Björndalen said to to International Biathlon Union website.
Austrian Simon Eder captured the 15-kilometer Mass Start competition, after a clean shooting performance, and his countryman Dominik Landertinger came second.
You can share this story on social media: