'Unforgettable' racehorse outruns Dutch cyclist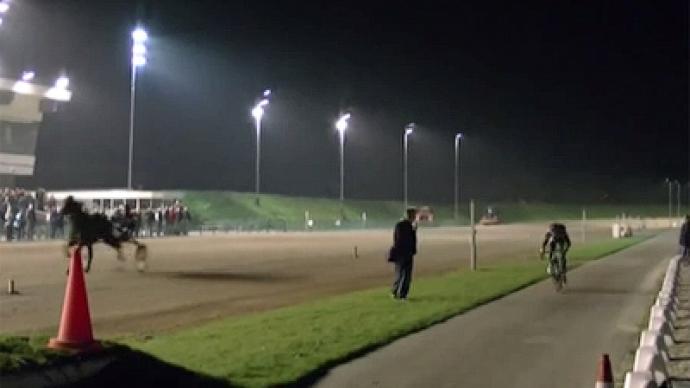 A quaint race has taken place in Dutch Wolvega. Professional cyclist Johnny Hoogerland, riding for the Dutch Vacansoleil Pro Cycling Team, has lost to a racehorse nicknamed Unforgettable in a one-on-one rush.
­28-year-old Hoogerland sped on the asphalt inside of the racing canvas and Unforgettable ran on the sand along the outer edge of the track.
Unforgettable won two out of three races. The third run became decisive. Hoogerland had some advantage on entering the final meters, but then the racehorse started to accelerate and finally succeeded in finishing a little ahead of the bicycle's front wheel.  
The event was held by a businessman collecting funds for children with cancer.
"It was very interesting, and the occasion was more than important," the cyclist told ITAR-TASS agency. "I am happy that I could take part in this race. There were plenty of people there, the Hippodrome was completely full."