Katyusha cyclist claims Five Rings of Moscow race for second year running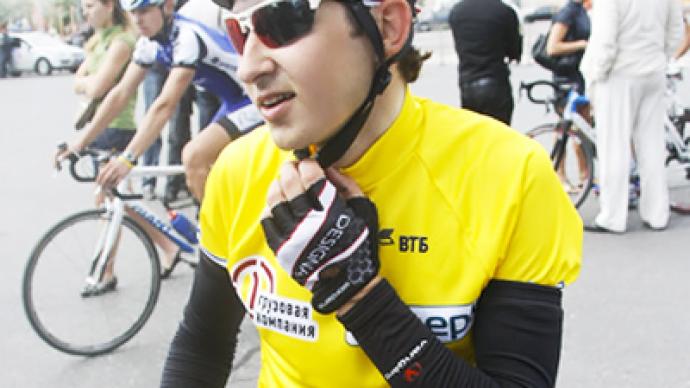 Katyusha rider Sergey Firsanov has won the Five Rings of Moscow road race for a second time. He did enough for overall victory even though the final stage was won by amateur Aleksandr Serebryakov.
It was Victory Day in the Russian capital, but it was a victory of a different sort on the minds of those who had fought to make it to the final stage of Moscow's top cycling event in the most prestigious setting.
The decisive round of the Five Rings of Moscow race took place in the very heart of the city – the Sadovoe (Garden) Ring.
Usually gridlocked with traffic, the clear road was a perfect battleground for the international cyclists. Eight laps with a total length of 129 kilometers in blazing sunshine.
The man in the yellow jersey, Sergey Firsanov, began the final stage knowing he had a 23 second advantage over his nearest rival. The Russian had already tasted victory in the race last year. This time out his team mates from Katyusha helped him retain his lead and claim the second straight title.
He had enough to spare at the end even though he did not win the final stage. That honor went to another Russian, Aleksandr Serebryakov.
The amateur rider had a spectacular race claiming a photo-finish win at the Kremlin Ring stage on Saturday, and underlining his class produced the fastest finishing sprint at the Sadovoe Ring stage.
"The last meters were very tough. I was keen to snatch victory right on the finishing line, just like I did at the Kremlin Ring stage. Fortunately, it didn't come to a photo-finish this time out. Actually, I was doing my best in Krylatskoe as well, but I feel much better on flat circuits like here," he said afterwards.
Following the best sprinters it was time to honor the main hero of the day.
"It's a great honor for me to win on such a great day for my country. You can't even imagine what I'm feeling now," Sergey Firsanov said, adding: "Thanks to my team mates. They trusted me, and did a great job for me as the race leader. We all deserved this win."