Skategate: US speed-skating champ admits messing with opponent's skates
Published time: 6 Oct, 2012 09:16
Edited time: 6 Oct, 2012 13:24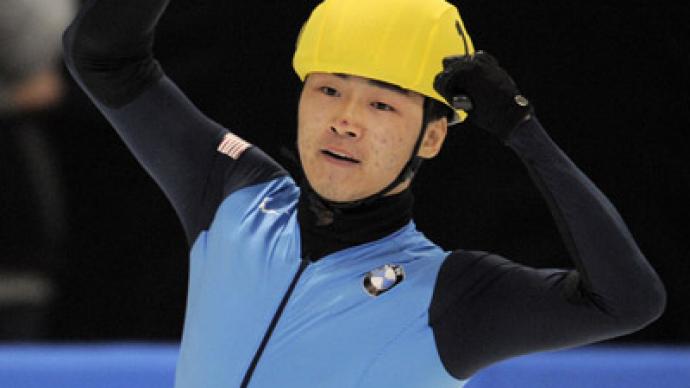 Top US speed-skater Simon Cho says his coach persuaded him to tamper with the skates of a rival at the World Short Track Team Championships in Poland last year.
­"Tampering with someone's skates is inexcusable," Cho told NPR. "And I'm coming out now and admitting that I did this and acknowledging that what I did was wrong."
The 20-year-old stressed that he resorted to sabotage under pressure from American team coach Jae Su Chun, who repeatedly approached him during the event in Poland.  
"He asked me to tamper with another skater's skates," he explained. "And I told him 'no' two times before he came to me and asked me again to do this."
Cho remembers his coach as saying: "If you want to be a leader for this team, if you want to carry this team to the next Olympic Games, you need to do this."
The skater says he took his trainer's "bending machine" and messed up the skates of his Canadian rival, Olivier Jean.
"I panicked and I bent it," Cho said. "My hands were shaking because I was so terrified."
As a result, Jean, one of Team Canada's leaders, was forced out of the final relay when his skates didn't track properly on the ice.
"I'd like to apologize to Speed Skating Canada, the entire Canadian team [and], of course, Olivier Jean," the American stressed. "I want them to know that I have nothing but respect for them and that I'm truly sorry."
Cho brought his country a bronze medal in the 2010 Vancouver Olympics and is the reigning World and National Champion in the 500-meter short track event.
The young athlete was one of US hopefuls for the Sochi 2014 Olympics, but his sporting future is now in question, with investigation into the sabotage incident underway.