Russians best freestyle swimmers in Europe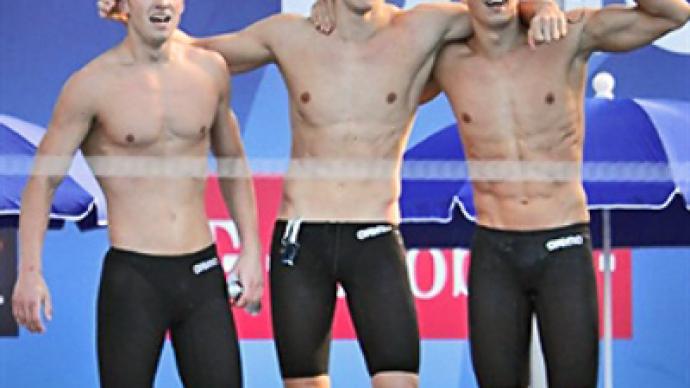 The Russian freestyle swimming quartet has beaten their main rivals in Europe, France, by almost a second to claim the European championship in the men's 4x100m freestyle relay gold.
All Monday Russian fans were waiting for Russia's first swimming medal in Budapest, and all Monday Russian swimmers were somewhere near the podium but still couldn't win at least a bronze.
The country's men's 4x100m freestyle team was the fans' last hope, and they met expectations. Evgeny Lagunov gave Russia a tiny lead after the first leg, which was extended to almost a second in the end.

"I don't want to say beautiful phrase that the whole my life flashed in my mind at once, but I have exactly this feeling," Russia's encore man Danila Izotov said. "Honestly, our victory is a big surprise for me".
"Standing here with Alain Bernard is a difficult test. When it seemed to me that he was about to catch up with me at the finishing stage, I thought that it would be better to die than to lose, because my partners wouldn't understand my defeat," he added.
The final standing:

1. Russia E.Lagunov/A.Grechin/N.Lobintsev/D.Izotov 3 mins 12.46 secs (European Championships record)
2. France F.Gilot/Y.Agnel/W.Meynard/A.Bernard 3:13.29
3. Sweden S.Nystrand/L.Froelander/R.Andreasson/J.Persson 3:15.07
4. Italy F.Magnini/M.Orsi/C.Galenda/L.Leonardi 3:15.18
5. Germany S.Deibler/M.Deibler/S.Herbst/P.Biedermann 3:15.97
6. Hungary D.Kozma/K.Takacs/L.Cseh/B.Makany 3:18.01
7. Belgium J.Aerents/G.Surgeloose/F.Heersbrandt/Y.Grandjean 3:18.12
8. Britain S.Burnett/L.Tancock/G.Turner/R.Davenport 3:18.31
You can share this story on social media: