Russian skydiver dies after accident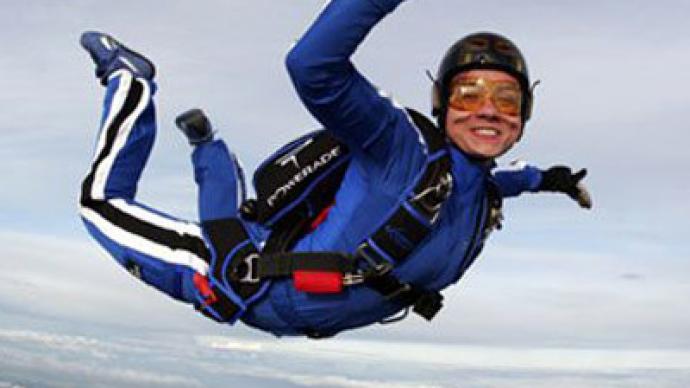 Record-holding Russian skydiver Irina Sinitsyna died as doctors attempted to revive her from a coma Tuesday morning in Moscow. Sinitsyna had been in a critical condition for a week after a botched jump attempt in California.
­Sinitsyna was taking part in an attempt to set a new skydiving world record for largest wingsuit formation, with over 100 divers from all over the world participating in the jump. The jumpers were to join hands and form a giant rectangle in the air.

The accident occurred when the parachutists broke formation to open their canopies. Sinitsyna "collided with another parachutist, became tangled in her lines and was unable to fully open her reserve by the time she hit the ground," her friend Tatyana Zharova said, as reported by RIA Novosti.
Expert skydivers say that attempts to join hands and create geometric shapes in mid-air require immense teamwork. Free-falling while holding hands leaves no margin for error, as success depends on each and every member of the team.
The accident in Perris Valley, California was captured in a YouTube video by witnesses on the ground. Onlookers frantically scream for Sinitsyna to "cut away" from her entangled lines and deploy her reserve canopy. She makes a hard landing as an emergency worker sprints towards her immediately after impact. She broke several vertebrae in her neck and immediately fell into a coma.
Sinitsyna was airlifted to Moscow on September 29 by the Russian Emergencies Ministry.  ITAR-TASS reported that she arrived at the Neurosurgery division at the Burdenko Research Institute in critical condition. While the doctors did all they could to save her, she died Tuesday morning without having regained consciousness.

Sinitsyna was a World and European record-holder in free-falling, and was widely regarded to be among the best Russian skydivers. Sinitsyna trained at the Kolomna Airfield in the Moscow Region, where 88 Russian women descended hand-in-hand from a height of 20,000 feet to set a new world record for a formation jump in July 2012.