Russia capitalize on Germany collapse to win biathlon relay in Oberhof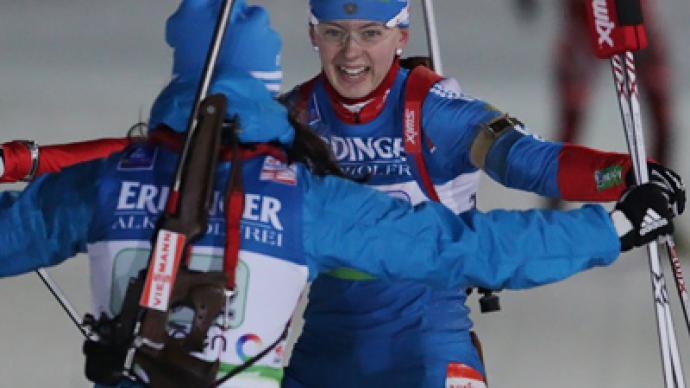 The fate of the women's relay at the biathlon World Cup looked all but decided until an awful shooting of Germany leader Magdalena Neuner allowed Russia to snatch victory in Oberhof.
Neuner had a commanding lead of 20 seconds for Germany going into the final shoot, but mishit seven of her eight final attempts forcing herto run four penalty laps.Russia's anchor Olga Vilukhina took full advantage of Neuner's dramatic collapse to lead the team of AnnaBogaliy-Titovets, Svetlana Sleptsova and Olga Zaitseva to victory in 1 hour,19 minutes, 32 seconds.Norway finished second in the 4x6-kilometer race 5.9 seconds behind Russia. France grabbed the remaining podium berth withGermany settling for disappointing fourth.The home crowd will have another chance to see their local favorites win medals. The men's 4x7.5km relay will be held on Thursday, with individual races scheduled until Sunday.
You can share this story on social media: