Russia claim Bandy Worlds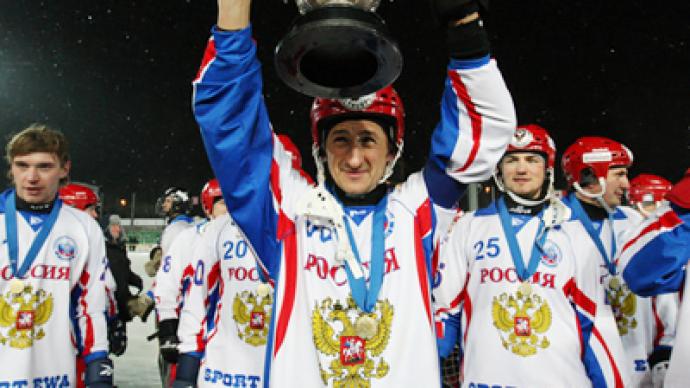 The Russian national bandy team have cruised to victory at their home World Cup in Kazan.
Sergey Firsov's charges made their revenge on Finland, to whom they lost 4-3 in the preliminaries, in the final on Sunday. The Russians were the dominant side throughout the whole game, thrashing their opponents with a 6-1 scoreline.   Pavel Ryazantsev and Sergey Pogrebnoy got braces for the winners, with Dmitry Saveliev and Sergey Lomanov also making their contribution. Russia have regained the bandy (or Russian hockey) World Champions title after two years of Swedish hegemony, grabbing their sixth trophy since the fall of Soviet Union back in 1991. "We managed to win thanks to our class, team spirit and the good players we have, who managed to prove their skills on the ice. Dedication and desire to regain the world champions' title were present. Finals aren't easy to win. But we have a very well-knit squad in the national team, who always have a great desire to prove that Russia is the strongest team," Sergey Firsov, Russia's coach, told Bandynet website.Russia's captain, Mikhail Sveshnikov, has been awarded as the tournament's best player.Meanwhile, Sweden destroyed Kazakhstan 14-3 in the game for the third place.
You can share this story on social media: